Hey everyone, I just started lurking around these forums in the past week while attempting to overclock my 3600+.
I have my system running at 270x9.5 stable right now, but I want to run it at around 2.6 or 2.7. However, when I bump it up to 272, it's completely unstable. Can't make it into windows and if I do, it crashes soon after. Going over 270 with Clockgen gives me BSOD in moments. Doesn't matter which HT multi I am using, 3x or 4x does not work for 272. They both work fine at 270.
I've tried bumping every voltage except memory (I have had it running much faster with no problem so I know I'm good on my voltage there) with no luck.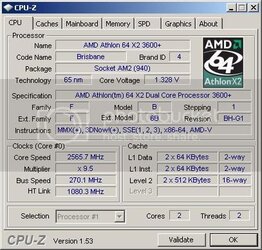 Sorry if I missed any specs, just let me know if I did and i'll edit the thread. Thanks in advance!
Specs:
biostar tforce 550 1.3
3600+ X2 64 Brisbane
500w PSU 12v1 16a 12v2 17a
EVGA Geforce GTS 250 1gb
2GB (1gbx2) VS1GB667D2 Corsair value Select ddr2 667 PC2-5300 dual channel
1TB WD sata2
Last edited: