New install. System specs in signature.
I let the ASUS motherboard do its little EZ Tune thing. I selected the Gaming and Water Cooler options. It's been perfectly stable for about 3 days of gaming and general usage in Windows 7 and Linux Mint. But when I installed HWMonitor and Prime95, I saw the temp shoot up to 100C!!!
Needless to say, I doubt many games will give 100% load to 8 threads, but still...
Here's the HW Monitor for the Prime95 run: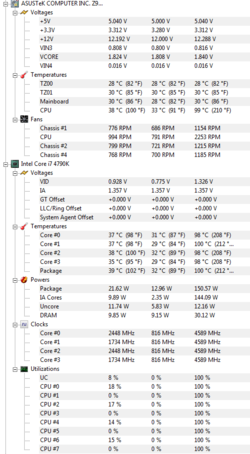 Any thoughts? Is VCore too high?
Last edited: