Hello to all here!
This is my very first post in this forum and I am glad for this.
I've downloaded a week ago the new release of Ryzen Master and I happily found out the new option Curve Optimizer and it's validation offset function. Surprisingly once the validation process ended, Ryzen Master gave to me these results:
All cores -30 except of CO02 -26 and CO04 -23.
Initially I thought it was a joke but once I've tried some CPU-Z and C4D 23 tests I've started achieving some interesting results. I was getting some random crashes so I've set these new values which now work perfectly:
Now, here is why I am writing to you for an advice, if I test the system with CPU-Z I get this situation:
Multi Thead score: 13246.2
Single Thread score: 694.9
Multi Thread data:
Peak Speed 4.600 Mhz on all cores
Temp 75°C
Peak Core Voltage: 1.37 - 1.385
Single Thread Data:
Peak Speed 4988 - 5002 Mhz
Temp 55°C - 57°C
Peak Core Voltage: 1.456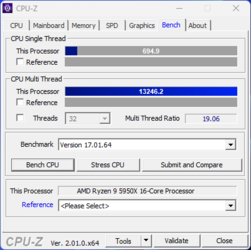 I should be happy right? What is bugging me are the peak volts, max 1.385 in Multi Thread and 1.456 in Single. I know very well about the 5950X's capability and architecture on working on high voltage but now that my OC curves are different than the past (I had an all core -25 except a couple of cores at -12), I thought my max volts would be a bit lower. But guess what? The chip with this configuration gives to me fantastic numbers and results and the voltage went up!
I am a 3D Artist and I use this workstation for a lot of 3D rendering workload so I prefer to get some lower volts. You think is possible or you think I am completely wrong?
Maybe I could limit it with the PPT and use a lower value so it works a bit slower. I am also playing games with the same config and for example in FS2020 my voltage is constantly around 1.45 - 1.47!!! Should I worry?
This is my config:
AMD Ryzen 5950X
Motherboard Gigabyte Aorus Master v1.2
128GB ram Kingston 3600
Nvidia 3080 RTX
3 Nvme disks installed + 4 normal SSD
Power Supply EVGA Super NOVA 850W G3 80+ GOLD
AIO Arctic Liquid Freezer ii 360
Case Fractal Torrent with 7 fans installed (3 are from the frontal AIO)
Thanks for reading and I am looking forward for your thoughts!
Have a nice Sunday and take care.