Need or want to listen to TV with a Bluetooth headphone but don't have Bluetooth on your TV: Here's what I did. This will work on any device, TV, etc. that has audio out. Be it RCA out, 3.5mm out or optical digital out.
Problem:
You have a newer TV that lacks Bluetooth support. A gorgeous 4k screen with built in speakers. Yeah, we see part of the problem. Now you can't hear spoken words well even after playing with the built in Eq. What to do? Turn up the volume of course. Louder and louder until your SO says: "HEY! WOULD YOU TURN THAT DOWN A BIT?" You know, because they have to talk over the volume of the TV. Now what?
Solution:
Pull your lazy boy up to within a foot of that glorious 65" screen. You'd feel like you're at an IMAX theater. While you could keep the volume down lower, this is probably not the best answer. If only you could use one of your fancy headset/headphone/ear buds that you already have. If your TV has Bluetooth built in, just follow the instructions and you're done. The rest of us need to soldier on.

Better Solution:
Bluetooth transmitter. Which one? There are a few manufacturers who show up in review after review. Which model? Each manufacturer has several models depending on need and budget. Which one do you need? Let's dig down a bit.
Brands (Not all inclusive):

: This brand seems to be at the top of many review sites. They make/sell the TC417 for about $40, the Oasis B for about $60, the Audikast for about $60, the Oaisis Plus for about $80 and the Orbit for about $100. They all claim Bluetooth (BT) ver 5.0. They all appear to accept input from RCA, 3.5mm and digital optical. At the lower end, they are transmitters only, which is fine if you only have the one use in mind. Higher end units allow to be in transmit or receiver mode. This lets you either send audio to a BT speaker/headset or receive audio from a BT device like your phone to wired speakers. Higher end units also allow you to pair multiple headsets/speakers pass through audio to another audio device like a sound bar and higher end units have a greater transmission range.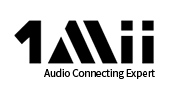 : According to their web page they were started in 2018. They seem to have a very wide range of products in this field. Prices range from about $22 up to about $120 which is in line with serious contenders. The DS200 is their highest priced unit at the time of this writing and seems to be geared to home audio reciever owners looking to add Bluetooth. The B03Pro lists for about $80 which is competitive with Avantree but does not provide for passive pass-through of audio to other audio devices. If that's not an issue to you, keep this as a contender.

: Like the others, there is a wide range of models to select from. Prices range from about $19 up to about $55. They tend to rate lower than the other two brands but they could do a very nice job. The $55 "Long Range Bluetooth 5.0 Transmitter Reciever for TV" or "TT-BA014" for short allows for RCA, 3.5mm and digital optical in both receive and transmit modes. This unit too can bypass audio signal to an external audio device.

: These units range from about $18 to about $33. Their selection is smaller and is more geared to cell phone use. The BTI-066 boasts up to two Bluetooth devices, RCA/3.5mm/digital optical and Bluetooth 5.0.

: They seem to have a wide variety of devices to choose from. It is at this point that I notice items like the MBR1 look identical to units from other manufacturers. Prices range from about $14 to about $1000 for the T1.0 Micro FM Transmitter. Excluding that unit, relevant units for this article top out at about $61.
Price point/Features:
This article will continue from the perspective of Avantree specifically but much of what will be discussed should apply to all manufacturers of these devices. Generally speaking, units in the same price point have about the same features and similar specs. There is no sponsorship for this article. Just a round-up of what I learned as I purchased a unit for my personal needs.
Units like the TC417 (Avantree) are cheaper ($40).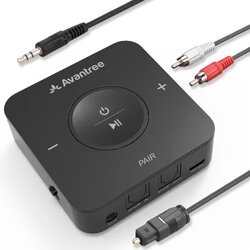 They offer RCA, 3.5mm and optical input. Features they lack is that they can only pair with one audio device at a time. They also do not have audio bypass for a sound bar or other audio device. This would cause you to switch between them if you have both. If you are the only one who uses the TV or if you don't have another external audio device, this could be perfect. All units advertise low latency and they all offer reasonable range.
Units like the Audikast Plus (Avantree) cost about $60. They too allow for RCA, 3.5mm and optical. Units in this price range tend to allow for up to two Bluetooth devices at a time and tend to have good range. What they tend to lack is audio pass-through. If you don't have a sound bar or anything that needs the optical cable, this is a good unit.
The next level up is the Oasis Plus (Avantree) which I purchased for $80.
Units in this range allow for up to two Bluetooth devices at once. They tend to have a better antenna and thus have better range. You can select this unit to favor sound quality or latency depending on your environment and needs, a feature not necessarily seen on lower end units. Units in this price range tend to allow for transmit or receive mode and also have a greater number of LEDs to let you know what is going on.
The last class are those like the Orbit (Avantree) which cost $100 and up. These units are much like the $80 units. TX/RX, up to two Bluetooth devices and audio pass-through. What they add is an even better antenna system for even greater range. They may also add an LCD screen to not only show you the status of various states but has everything spelled out too.
Some units are meant to sit on your media shelf. Others are meant to take on the road and have small batteries built in. While we are talking about TV to Bluetooth, all of these devices are marketed for secondary use for your audio receiver or other devices and are therefore fairly generic.
In all cases, these units are small enough to keep out in the open and be unobtrusive. That said, depending on your use, they can live behind your TV, completely out of sight. None require any type of tools to install. Expect to spend a half hour to an hour from start to finish depending on how willing your setup is to integrating this tech. Finally, all of these units will work with any Bluetooth audio headset or speaker that works with Bluetooth up to ver 5.x.
Use scenario:
Criteria for me were as follows: 1) Be easy to use. Require zero change to other users of my TV. 2) Should work with my existing headsets. 3) Be of reasonable cost. 4) Have reasonable audio quality. In researching different options, I found that the Avantree Oasis Plus fit my requirements and gave me room to adjust should my audio environment change. While I do not have a sound bar now, should I upgrade to one this unit will not interfere.
Basic setup:
Setup was simple. My TV is mounted on the wall with room to swivel. The USB power cable plugs into a USB port on the TV or a USB walwart to a power strip. I selected optical output and plugged in the supplied cable on both ends according to the instructions. If your unit has audio pass-through, pay attention to the ports being used.
With the TV on, I went into the menu settings for "Sound" on my Visio TV. I set the speakers to be "ON" instead of Auto or OFF. I then set digital output to PCM. Next, following the instructions from my headset, I put the headset into pairing mode. My transmitter found and paired immediately.
I found that the volume button on my remote only works on the speakers for the TV. This is great news for me as my wife can adjust the volume to her tastes and not affect the volume of my headphones. The Oasis Plus does have volume on the base unit. I turned the Bluetooth volume to 100% on the base station and give it a fine tune on my headphones.
When I'm done, I just turn off my headphones. When my wife goes to use the TV, she sees nothing different. Nothing. It all looks and acts like it did before. When I come back to the TV, I too have to do nothing. Just turn on my headphones and watch TV. As loud as I want.
This guide is not without holes. It is meant as a solid starting point should you be in the market for something similar. We had a general introduction to some of the name brands. We had a fairly complete guide to price points and features at each. We also covered connecting transmitters to TV's. While other models will look different, installation will be similar.
Last edited: