Hello here,
I am looking for advices to think my custom watercooling loop and to choose the components.
The goals of my loop are :
- To cool CPU and GPU.
- To be a compromise between the most quietest loop and soft/medium CPU overcloking.
- I don't want the best cooling perfs, but have CPU and GPU temperatures under 50-55°C in burn will be great.
- I have begin to mod my PC, so the look matters.
My PC config is the following :
-
CPU
: Intel Core i7 8700K
-
CPU Rad
: Noctua NH-U12P SE2 (with 2 NF-P12 fan)
-
MB
: AORUS Z390 Pro
-
RAM
: Corsair Dominator 2x8Gb 3000Mhz
-
GPU
: AORUS GTX 1080Ti Extrem Edition
-
PSU
: Seasonix X-750 Series
-
Case
: BeQuiet ! Silent Base 800 (2014 Version)
In my case specs, it says that the radiator locations are :
- Front : 120/140 rad slot
- Back : 120 rad slot
- Top : 240 rad slot (or 280 slim rad slot)
After searching for informations, this is my considered loop :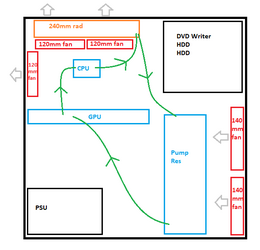 I think use mainly Barrow gears, after reading the good quality/price, with this component (so a nickel/copper loop) :
-
CPU block
:
http://www.barrowint.com/index.php/article/804.html
-
GPU block
:
https://aliexpress.com/item/Barrow-...for-Gigabyte-AORUS-GTX1080Ti/32809286975.html
-
Radiator
:
http://www.barrowint.com/index.php/article/77.html
-
Pump/res combo (choice 1)
:
http://www.barrowint.com/index.php/article/977.html
with compatible res
-
Pump/res combo (choice 2)
:
https://www.thermaltake.com/Liquid_...servoir/C_00002695/Pacific_PR15_D5/design.htm
For my loop I have the following questions :
-
About radiator
:
- For cooling CPU and GPU, is a 240mm rad enough ? It read that yes on the net.
- If yes, which thickness is better ? 34, 45 ou 60 mm
- If no, how will you proceed ? For example, add a front 120 mm rad, for example like this :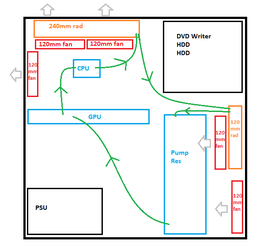 -
About pump/res combo
:
I want to keep my loop as silent as possible. After reading on the net, it seems that the Laing D5 pump is one the quietest choice. I have also read that the linked Barrow pump is more a DCC pump (and an unofficial one, because it is not mentioned on the product page)...
So which pump/res combo would you choose for my objectives ?
The thermaltake Pacific PR15-D5 is more expensive, but does it worth it ?
I have read here
https://electricwaterpumpguide.com/...mp-guide/#Thermaltake_Pacific_DIY_LCS_PR22-D5
that it's grand-sister, the Pacific PR22-D5 (same pump with bigger reservoir), is highly recommended, mainly for the silent, but the max liquid temperature is lower...
-
About rad fans
:
I want a compromise between quiet and temperature perfs to consider a soft/medium overcloking.
I have read that for red fans, static pressure is more important thant air flow, but static pressure and silent are not good friends.
Can I use my actual CPU rad Noctua NF-P12 fans ? They are enough silent for me, but does the static pressure is ok with them ?
Can you advice to me another fan with is a good compromise between quiet and static pressure ?
Do i have to setup my fans in push or pull configuration (I have clearly not enough space to mount a push-pull setup) ? It seems that push have better perfs ?
Does the back fan still usefull with two 120 mm rad fan in extraction ?
Thanks for reading, and for your answers.