First custom loop build here

temps are fine, even prime95 for hours at 5.1ghz (non-avx) ~72-74C
during gaming cpu rarely hit 50s and gpu stay 40s (both overclocked)
But at 100% pump speed I'm only getting ~.6 gpm flow. This is after upgrading to 1/2" id tubing (3/8" id was only .3 gpm. but also reduced number of fittings which im sure contributed to this as well tho)
I didnt pay to have a nerfed loop tho, so I'd like to try and figure out best option to get up to at least 1gpm and unlock the remaining cooling potential
Components
Case: Fractal Design R6 TG w/ USB C upgrade
Motherboard: Asus Formula Maximus XI (with integrated VRM block)
CPU: i7-9700k (delidded/binned at 5.1ghz by Silicon Lottery)
CPU block: EKWB Velocity
GPU: EVGA RTX 2080 (2115ghz overclock)
GPU block: EKWB Vector block and back plate
Reservoir and pump: EKWB D5 140 PWM combo w/ x3 multiport top added
Radiators: Koolance HX-CU1020V 360mm x2 <<<<--------[main restriction culprits here. see review/restriction test here--->]
https://www.xtremerigs.net/2015/07/30/koolance-hx-cu1020v-360mm-radiator-review/3/
tubing: Primochill 1/2" ID clear flex
Fittings:
Barbed: 1/2" ID EK fittings
Bends: Koolance Swiveling Elbow Fitting (Low Profile) x3
EKWB Swiveling 90 x3
EKWB Swiveling 45 x1
EKWB Swiveling dual 45 x1
Tees: Barrow G1/4" Thread 3-Way Block Splitter x1 (for temp sensor)
Flow meter: aquacomputer high flow USB x1
Other: couple swiveling straights and M-M or F-F straight adapters as needed.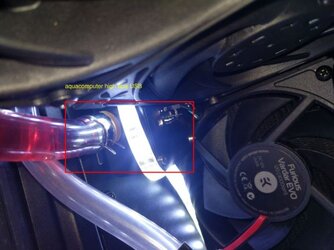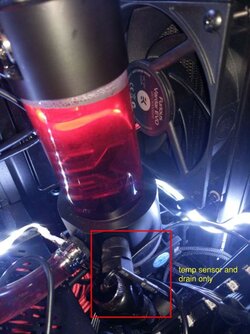 So basically I'm just trying to figure out if I should try and optimize current loop or just get another D5 to put between the current pump res combo and rest of loop.
Ideas for optimizing current loop:
1. make a custom bracket for vertical radiator on front, allowing me to point fittings into the case in the basement, instead of out of case on top. this would eliminate (at best) 2x low profile 90s, 1x swivel 90, and 1x 45-45 swivel fitting OR depending on min tube bend radius possibly will need to use 2x 45-45 swivels to point up out of basement.
2. reroute tubing to eliminate the long loop between motherboard block and cpu block (inlet). min bend radius so large that loop interferes with glass window so i have to push in and use thumb screw to close. window doesn't normally require thumb screws to hold panels on.
also the discharge of pump is 180 to first radiator. could send straight to cpu inlet, although I'd have to move others down the line around too to allow this configuration
Leaning toward getting a second pump and cramming in basement, although id probably reroute tubing a bit at same time. Rather not reroute, test, get another pump, test.... whatever I do id like to do just once more and be done. Tired of drain/fill/bleed so many times when my temps really arent issue. interfering with my COD time.