Joined

May 17, 2005
Location
I do understand that retail is managed all through the marketing-sales-shipping-customer service processes by their AI, but it's still amusing to see such
thought-less
events such as:
...when the customer gets an email soliciting a product rating, even though the customer(in this case-
me
) hasn't received it yet.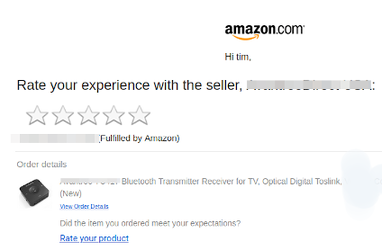 You got to give them credit, at least they're consistent, this is the umpteenth time Amazon has done this before I've received the purchase.
...for crying out loud, I've been waiting a week, tracking says "out for delivery"....again. Maybe
third time's
the charm!