A childhood friend of mine bought this Commodore Amiga (later rebranded Amiga 1000) in 1985, while I was still hanging on to my Commodore 64. I eventually bought the Amiga from him in 1989 when he went away to college.
A little blurb about the Amiga 1000, for those unfamiliar:
"The Amiga was so far ahead of its time that almost nobody—including Commodore's marketing department—could fully articulate what it was all about. Today, it's obvious the Amiga was the first multimedia computer, but in those days it was derided as a game machine because few people grasped the importance of advanced graphics, sound, and video. Nine years later, vendors are still struggling to make systems that work like 1985 Amigas."
— Byte Magazine, August 1994
I used it for years, until the keyboard became worn and nearly unusable and the floppies began to de-magnetize. I eventually bought an NEC 486sx 33 MHz in 1994 and then briefly re-visited the Amiga in 2003 to put some titles on a short film.
Then it sat in various places until the ABS plastic of the case faded to honey-barbecue brown. I found it in a closet in the basement in really bad shape.
I did not take a "before" picture because I didn't plan this thing very well, but here is a typical aged and faded Amiga 1000:
It really disheartened me, until I stumbled across a homebrew formula for "retrobright".
Basically, retrobright is a mixture of Hydrogen Peroxide and Oxy laundry booster which, when applied to stained old ABS plastic, bleaches it back to like-new condition.
Feeling rather skeptical and too lazy to gather the proper ingredients, I found some Woolite heat-activated steam cleaner solution "with Oxy power" in my basement. (I think it was here when I moved in).
I ran and got some peroxide from under the bathroom sink and mixed the 2 in a paper towel and applied it to the Amiga case and let it sit in the hot July sun for 2 hours while I ran some errands.
Upon returning, I was astounded to see the stuff was actually working! Hence, it inspired me to do something creative...and destructive.
I gutted the 28 year-old innards of the old girl and got to work monster-garage style.
One of the first things I saw that needed replacement was the tired old red power LED.
LEDs of yesteryear were...dim and weak.
I replaced it with an ultra bright green Radio Shack model 276-009. After all, power LEDs should be green, not red: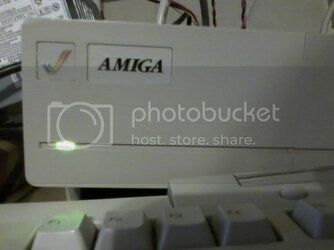 Next, I closed off the old floppy openings (including the eject button) with beige plastic from an old server and mounted a USB port and mic jack in the center of the opening via hot-glue:
I was rolling.
I had an old ECS micro-ATX mobo lying around doing nothing. It sports a conroe Celeron 440, not a bad budget chip, and it runs cool. Light years ahead of the old Motorola 68000, right?
The main thing I was interested in was fitting a board inside, and since I didnt have a nice mini-ITX, I decided to see how far I could go with the micro-ATX. Heck, I figure I can upgrade at any time in the future once I get it retrofitted with standoffs and an I/O shield cutout. This board will do for a V1.0, but ultimately I plan to upgrade to a nice AMD APU system in mini-ITX form factor.
The original rear panel was...rather full of holes.
My problem was how to adapt the rear of the case to accommodate a modern mATX motherboard I/O panel. I toyed with the idea of closing off the old unusable parallel, video, audio and serial portholes with hot glue and plexiglass, but decided to start fresh.
Typical Amiga 1000 rear, shown with attached A1300 genlock system: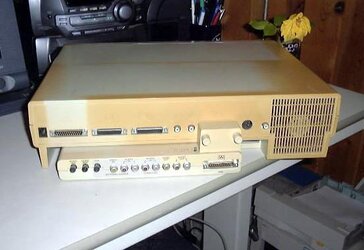 My friend Butch, who restores antique cars for a living gave me some white plexiglass and the use of his bandsaw. I simply scribed over the original case rear onto the workpiece and got to cutting right away. Original case rear is below: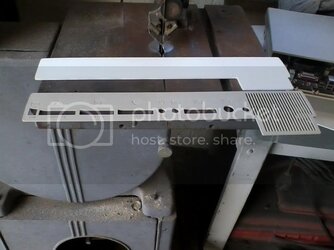 I got a great, accurate cut first try and after sanding the rough edges with 400 grit paper, tried it on for size: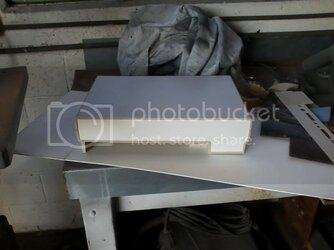 An absolute perfect fit. (If your eye is drawn to the gap below, that is merely the Amiga's original power cord port- more on that to come).
Last edited: