Hey guys - finally picked up my RAM from the parcel depot Friday morning, although havnt had a chance to play with the system until today! Had my final exam on Friday, so I've spent the entire weekend out celebrating with friends
What better way to nurse a hangover than a bit of OC'in while watchin a Back to the Future marathon
Anyhow, it's all up and running now, just wanna start with some benchies and info of the system at stock.
Intel Pentium 4 2.40Ghz 800-HT (SL6WF L310)
Abit IC7-G Bios 1.3
2x 512mb PC3500 Winbond CH-5 Timings 2-5-2-2
Maxtor 120Gb SATA
Antec TrueBlue480
SLK900U w/ 80mm Pabst (8412NG 40.6cfm, 3100RPM, 32dBA)
CPU - 1.525v
RAM - 2.6v
Performance Mode - Ultra (guessing I should set it to this over Turbo and Fast)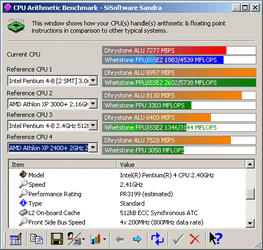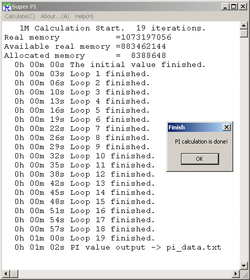 Flashed from 1.0 straight to 1.3 - although I don't think I ever had the temp problem - reported temps were 37degC idle and 45degC load, before and after the Bios flash.
CPU-Z reports RAS to CAS as 3, while it's set to 2 - should I believe CPU-Z or the Bios? I've run Prime95 for a coupla hours at 2-5-2-2 appears to like it.
Also, isn't the CPU bein undervolted quite a lot? Set to default 1.525, although reading in CPU-Z as 1.504v and 1.50 in Winbond Hardware Doc.
Do you guys n gals think those sandra mem and cpu score look right for the setup and config?