Hey all, new member here (yes I said hi in the new member area). Just wanted to share my story of getting to 5ghz with my FX-6350.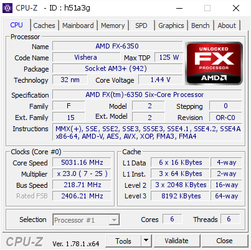 I bought this chip and a Gigabyte 970a ud3p mobo back in 2015 to upgrade from my Phenom II B55 (Had that OC'd to 3.7ghz, but never could unlock all 4 cores). Some light overclocking in the first few weeks began, nothing much, just bump the 3.9ghz to the turbo speed, 4.2ghz, and use stock voltage and turbo disabled. that was pretty rock solid and got me by for a little while, but then i wanted to know if I could push it further (don't we all here?), so I did.
I started by turning Turbo back on, and setting that to 4.4ghz, and changed the LLC to extreme, then boot up, run some benches and programs, keeping an eye on temps/voltages/clocks to see what the auto voltage settings were giving me. After a little of that, back in to BIOS, bump clock speed to 4.4ghz and punch in the voltage settings gleaned from monitoring, push turbo up to 4.6, and repeat.
This process went on over several weeks, moving some things up a little, some things down, back and forth trying to attain a good, stable, acceptable temp overclock. I was hitting a wall though. I couldn't get much past 4.5ghz core clock, and even that itself was hard for my Hyper 212 to keep up with. Turbo speeds could go up to 4.7, but that base clock did not want to budge. Somewhere along the way I picked up an Antec One Gaming case, with room for 5 120mm fans, hoping that would help with my thermal headroom, but I obviously needed better cooling than an air set up alone could give me...
Enter the Antec Kuhler 950!
"With this" I thought, "I will be able to break all barriers! Mwahahahaha!"
It wasn't that easy though... First off, this is a great little cooler! Wait, did I say little? While only needing to mount to a 120mm fan location, the friggin radiator sticks out another 25mm +/- on the top and bottom! Furthermore, having two fans and a waterpump housing sandwiching either side of a radiator starts creeping in to internal case space. I couldn't find a way to mount this thing in my case without cutting and modding... So of course that's what I did! I cut out the rear fan grill, and a little more than an inch from the metal top and bottom of that hole. I then separated the fan/pump side from the radiator, fed the waterblock and hoses through the giant hole in the rear of the case, slipped the fan/pump side in next, and then screwed it back together so that the radiator and "pull" fan are hanging out the backside of my case. So, yeah, that works for me for now, hardware rant over/
I started pushing my OC more and more (within safe Voltage/thermal levels, this is my daily driver pc), I hit my 4.5ghz goal, and even surpassed it! I was able to get to 4.8ghz before things started getting too unstable. So I stopped there, I was pretty happy with 4.6 base/4.8 turbo. I had noticed something though, when trying to clock higher, I had more success leaving turbo ON than off, which is quite the opposite of everything I've ever read.
I mostly kept it there 24/7 for the last year or so, but every now and then I would try to clock higher, 5.0ghz my new lofty goal! Most times, I couldn't even get it to post most times, others, it would freeze at the Windows loading screen. Tried disabling 2 cores, nothing. I just assumed I couldn't do it with this chip, so I left it where it was.
Fast forward to January 2017 and the release of Forza Horizon 3 for the PC! A game I had been anticipating, so I bought it, downloaded it, and tried playing it. Five minutes in and I get a notice saying my system memory is low! WTF?! I have the 8gbs minimum, this should NOT be happening! So I pour through my system information and find that Windows is only addressing 4.5 out of my 8 gigs memory, saying 3.5 is hardware reserved?! Out with the 2 ram sticks, star testing them one by one in each DIMM, lo and behold, DIMMs 1 & 2 don't post with either stick, DIMMs 3 & 4 address 7 of the 8 gigs, but in single channel, and any of the dual channel combinations only yield the 4.5 gigs. Well crap, something happened to my Mobo. Time to get a new one.
Enter the ASUS 970 Pro Gaming/Aura!
I landed on this after weeks of research and deliberation. This gigabyte board was the fourth product of theirs I've owned that crapped out on me, granted the other 3 were previously used, I wanted to give them a chance again, but they let me down. I'd heard great things about ASUS, even owned their Nexus 7 tablet and loved that piece of hardware, and all of the top overclocks I see use ASUS boards, so I started looking at the Sabertooth and CHV-FZ, whoo buddy these are top notch boards, with a price to match! I wasn't sure I wanted to spend upwards of 200$ on a new board with Ryzen right around the corner. I found a used 990FX Sabertooth for a really great price, but still wasn't convinced it was the right board for me. Then I happened upon the Pro Gaming Aura (while looking at unrelated RGB LED lighting), and it caught my attention immediately! Newer release date, newer features like M.2 and USB 3.1, great sound chipset with redline shielding, Intel LAN, RGB eye candy on the south bridge, six, count em SIX PWM fan headers, 7+1 VRM phasing, an older (but cheaper) 970 chipset, and most importantly, only 100$ on amazon with Prime shipping!
It came in on my day off, and I set to work disassembling my rig, and doing a thorough cleaning. Lots of dust bunnies and a dried up fan bearing in my PSU (It's been through 3 of my own builds, it's next on my upgrade list, but it's pretty solid despite bad reviews, got it secondhand for free, can't complain there), cleaned up and lubed up, works flawlessly again and the LEDs came back to life on it?

Now, I have to say, this mobo is the most beautiful piece of computer hardware i've ever seen. I fell in love with ASUS the second I pulled it from the static shield packaging. It feels solid, looks AMAZING and has a great layout that is easy to work with. Next time I buy a product, it's going to be ASUS. It even smelled nice?
Let's back track a little. The previous night, armed with the knowledge that my new board was arriving in the morning, I decided to throw everything I could at my rig, and VRMs possibly melting be damned! I was going to try to boot in to windows at 5ghz! So, I upped the voltage to 1.475, turned off 2 cores, threw the multi to 25 with fsb 200. It worked... kind of. In to windows I went, benchmark worked, but any stress testing shut down after about 30 seconds. I was getting REALLY close to the thermal limits of the processor, so I start backing down the voltage, bit by bit, the temps were getting better, but I was still getting shut down during any stress testing. I wanted to see if I could have all 6 cores cooking at 5ghz though, so I turned them back on, and set the voltage to 1.475 again, and again, I could go in to windows, and bench, but no stress test could pass about 30 seconds before shutting off. I'm thinking I somehow tricked the processor in to getting to 5ghz on 6 cores, because it did not want to any time I tried before haha, so I knew it was possible, but it was late, and my new board would arrive in the morning, so I called it good and went to bed.
So here I sit now, with my ASUS board and all of it's superiority to my previous one, so what do I do? Dial in the same settings I saw get me to 5ghz the night before and go for it! This BIOS is wayyyy more feature rich and a little over my head ATM with some of the VRM phasing and voltage options, but over the last few days I've been able to tweak it to get a stable 5ghz environment! I've got my full 8g of RAM back, OCd even! Which never worked well on the Gigabyte board. This board is handling temps and voltage increases like a champ. I know my OC set up could be better though, it's certainly not "prime stable" for more than 30 minutes, and I haven't had much of a chance to do more intense benchmarks and stress tests, but passing AOD stress test was good enough for me to stop for the day, will test more when I get done with work. I've got a ways to go before it's 24/7 stable, so I look forward to hearing from any of the veterans here!
Hopefully this set up tides me over until I can afford a full upgrade, and maybe by then we'll know if Ryzen is the Intel killer it clamors to be!
Keep it cool
TheVinci
Last edited: