Hey guys,
I wrote this little utility a while ago called Toast which is what I used to test out my overclocking.
I've updated it specifically for Core 2 and I need to get some feedback!! With the testing I've done this little proggy can really heat up the CPU more than OCCT or Orthos or any program I've tested!!
Please download it and compare the temperature to what you're using, tell me if you think it gets hotter. Be careful, it might REALLY get it hot.
A buddy of mine hit 90 degrees C on his Core 2 Quad and the BIOS automatically shut off the machine
It runs a very tight SSE loop executing nearly 4 instructions per clock cycle and a lot of vector math. I won't report any errors, it'll just heat up the CPU real hot and crash if your cooling isn't up to the task.
http://damage.vigilantesoftware.com
Like I said, its not done yet, and I've been thinking about integrating a CPU overclocking database to it; the idea is anyone who wants can enable sharing and have it report to the database automatically. Stuff like that.
I don't have real good cooling, so mine runs pretty hot. Running my Core 2 Duo at 3500mhz, 1.525 volts, it jumps from 57 degrees (idle) to 81 degrees in just a few seconds. Then it crashes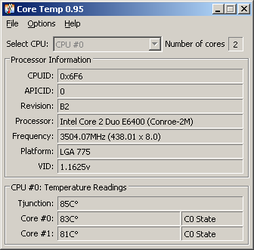 Last edited: