Hello all,
After recently updated my system from my old Phenom II X6 1075T to my new AMD Ryzen 5 2600, I'm trying to find a decent setting to my new DDR4 RAM...
I have 2 different KIT of 16Gb each so I know that I will have more difficult to get both stable with an high frequencyÂ…
First I tried just the 2x8Gb G.Skill Trident Z RGB (F4-3200C16D-16GTZR) @ 3200 Mhz CL 16-18-18-38 2T @ 1,35v with the XMP profile activated but I couldnÂ't pass more than a few minutes in Memtest.
Then I tried just the 2x8Gb TEAMGROUP T-FORCE Gaming DELTA RGB (TF4D416G3200HC16CDC01) and with the XMP profile I got a stable 3200Mhz CL 16-18-18-38 2T @ 1,35v.
Now I have both working and till now the best result I have managed was @ 2933 CL 14 17 17 38 2T @1,35v.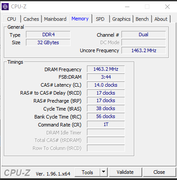 IÂ'm here trying to know about your expertise and opinion about if this last value is already a good mark regarding my hardware or, if you think that I have more room to go on and push a little bit and get them furtherÂ…
Thanks in advance for your help.
Cheers!