Hey guys so here it is almost finished and looking pretty good. Performance are amazing under cutom water cooling i think I started something I can no longer go back to air.

THE HARDWARE
THE CASE:
Carbide Series® Air 540 High Airflow ATX Cube Case White Edition High Air Flow ATX Cube.
THE MOTHERBOARD:
EVGA X99 Micro microATX
THE PROCESSOR:
Intel Core i7‑5820K 3.3 GHz LGA 2011‑v3
THE GRAPHIC CARD:
EVGA GeForce GTX 980 Ti CLASSIFIED
THE MEMORY:
Vengeance® LPX 16GB (4x4GB) DDR4 DRAM 3000MHz
HARD DRIVES:
Seagate 3TB
SOLID STATE1:
PNY 240GB SSD CS2111-XLR8
SOLID STATE2:
Crucial 240GB M500
POWER SUPPLY:
EVGA SuperNova 1000G2
THE AUDIO:
CreativeLab Sound Blaster Zx
THE WATER COOLING PARTS
PUMP:
EK-XTOP Revo D5 PWM
CPU BLOCK:
EK-Supermacy EVO
RESERVOIR:
EK-RES X3 150
RADIATORS:
2x Magicool 240 Slim G2 Radiator MC-RAD240G2
GPU BLOCK:
EK GTX 780Ti Classified Water Block (GTX-980Ti)
VALVE:
1x EK-AF Ball Valve (10mm) G1/4 Nickel
ROTARY:
EK-AF Extender Rotary
FITTINGS:
16x EK-ACF Fitting 10/16mm Nickel
FANS:
4x Cosair SP120 PWM AIR Series High Performance Edition
PSU PLUG:
EK-ATX Bridging Plug (24 Pin)
TUBING:
14ft of Primochill PrimoFlex Advanced LRT Tubing - 3/8in. ID X 5/8in. OD - Crystal Clear
COOLANT:
2x Mayhems Pastel Red Pre-Mix V2, 1x Mayhems Pastel Ice White Concentrated
[GOOGLE DRIVE SHARE] Actual Photos of the build.
https://drive.google.com/folderview?id=0ByY7HYYs_-1deGlQMjVrVkcxVjQ&usp=sharing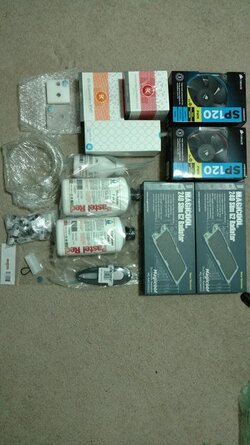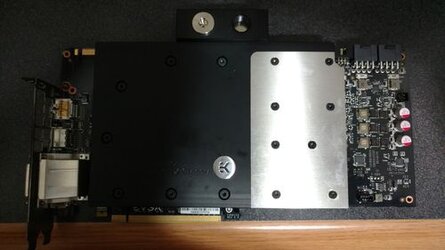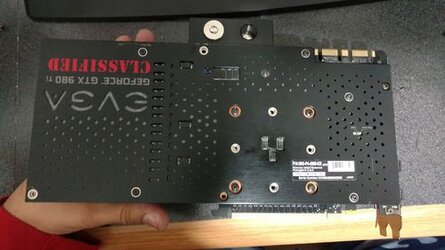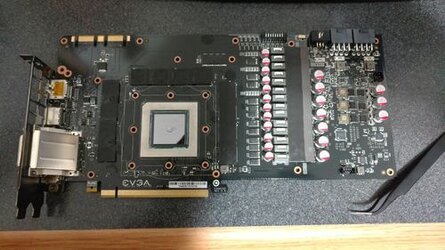 **UPDATES**
2-16-2016 - Final piece got in today which is the GPU and EK Block to start the project.
2-18-2016 - Ran into some issues, 1. I rean out of tubing only had about 4ft that came with my stuff and looks like i could had use a bit more to finish up the loop. also other issues routing the lines and figuring out were all my drives are going to go into. Personally if I can't have my big drives along with my other SSDs this project will have to be canceled. Until I get a bigger case I would have to put all of this on hold.
2-22-2016 - Purchase more tubing so I can restart the project over again once I get the tubing in. thumb.gif I am also looking to see were I can to place my drives. biggrin.gif
2-27-16 - Got the loop all set and running a flush with PrimoChill Sys-Prep for 12 hours.
2-28-2016 - Sys-Prep ran for about 14 hours, drain and notice I need to get a valve on the lower end of the loop but need a T fitting that I will order to make this happen. 75% drained refileld with distilled water to re-run the system back again until the PrimoChill Fluid gets here on Monday.
2-29-2016 - Order from EK 3 parts to help with the drain valve modification.
*EK-CSQ Plug G1/4 (for EK-Badge) - Nickel
*EK-AF Extender Rotary M-M G1/4 - Nickel
*EK-AF T-Splitter 3F G1/4 - Nickel
Last edited: