A long time ago I built my older brother's first "from the ground up" system. His previous system was one put together from spare parts between my brother-in-law and I. Anyways, specs were AMD Phenom 9600 x4, 4gb RAM, Jetway socket AM2 mATX board, Antec Truepower Trio 430w PSU, Radeon 4850, and an Apevia X-Plorer case. This system did very well. My brother eventually had to leave for a few years for work and when he moved back, i decided to surprise him with some upgrades. The jetway motherboard supported certain AM3 processors (with a BIOS update) and i obtained an Phenom II 965 BE to drop in, however the only affordable way was to also get it with a motherboard as a combo deal. An ASRock 970 Extreme 4 i believe. So out with the old, in with the new. It kept up well even with the old 4850 (GPU was one thing i couldn't afford to surprise him with). At this point, its the middle of 2014. He really likes the new system but we both recognize it runs out. He decides to get a new cooler and hey, even further upgrade the CPU (to my dismay, i wanted to see how far the 965 would take him in longevity). Stock cooler out, 965 out....in with an Arctic A30 and a FX-8350 (and shortly after, 16gb of RAM Crucial Ballistix Tracer). Now there are overheating issues and nomatter how i apply thermal paste and position the cooler (the case has 5 fans, 3 intake 2 exhaust), still no luck. A buddy comes check it out and we determine its the honeycombed fan grate in the back and my brother busts his dremel out and cuts the grate out. Problems solved! But then my brother gets obsessed with airflow a few months later and buys a Cooler Master HAF case and away the old case goes. My project is no longer recognizable. In the middle of all this, an HIS Radeon 280 that he OC'd made its way into his system and it was a beast. After all this, he sold it and jumped to a 980ti.
So the old case sat for a while. I sort of like keeping old sort of "1st major build" cases that i did around (well, the ones that were for family members). My 1st original case (an antec full tower knockoff) had been repurposed 3 times, for my little brother who could never afford anything crazy so he always got hand-me downs/spare parts builds that did the trick well enough.
Fast forward to 2015 and ive been hosting regular quarterly LAN parties at my house. One of my friends whose wanted a gaming PC for a while wants in, but can't afford much. Spare parts arent as abundant this time around. Well a spare case is! Through this, im working on a second build for the livingroom for myself and am looking for a decently capable and affordable GPU. I spot a guy selling his whole PC and asking in the mid $300s for it. I ask if he'll just part with the GPU, a GTX 670, and he tells me $180. I decline. He eventually contacts me again and offers me the entire PC for $180 and my alarms start going off for my buddy that wants in, and also my little brother. Lil bro tells me he cant afford it, buddy says he can. Seller has no idea what CPU, mobo, or RAM he has, only how much he originally spent and what GPU. I meet with him and boot up the unit with no HDD and BIOS reports 4gb DDR3 and an FX-6100, mobo appears to be a 760g chipset. I hide my reaction (my buddy notices it though but not the sellers). Tell the seller i'll take it, pay him, and run outta there like a bandit lol. The case is garbage so in the end this system was transplanted into the case mentioned above and paired with an arctic a11, new 8gb RAM, disc drive, a spare HDD, and some new fans. Overall investment was about $250. Not bad right? Airflow still seems less than satisfactory despite temps being perfectly satisfactory. Buddy is good with a dremel and continues the trend with this case.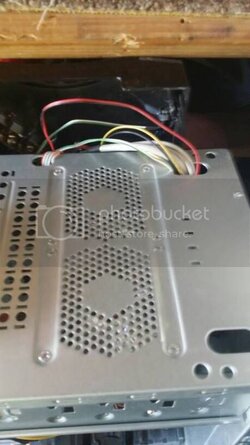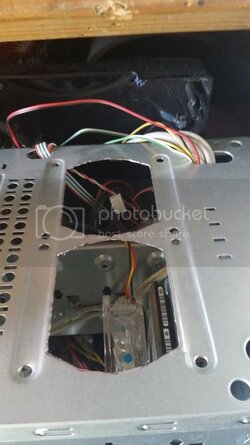 I was pretty surprised at my friend's wire management job in this case. This case is pretty notorious for being really crappy when it comes to wiremanagement.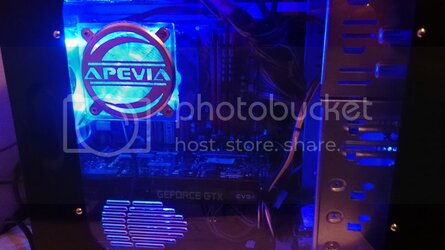 He also decides to get creative (studying to be an airplane mechanic helps him with ideas) and straps a duct with an additional exhaust fan to the back of the case. This was mostly to also help redirect exhaust heat from under his desk, to out towards the hallway in his house. Hopefully the FX-6100 can carry my friend's system for at least a few more years, especially considering he games on a 1440x900 21 inch widescreen (which will also help in the longevity of the GTX 670).
Anyways, just thought I'd share. Been back on these forums with the near release of the pascal cards (if it stomps my 970 I might sell it and get a 1070), and the Zen CPUs. My brother, my friend, and another friend are pretty happy to side with AMD, though only of them is AMD 4 Life type of guy lol. Would be cool to see Zen come in and be great and then my brother and friend's AMD systems upgraded into Zen systems. Hopefully everyone has a good memorial day weekend!