Yes you read that right the Air 740 has been released and here it is in all of its glory.
Image from GURU3d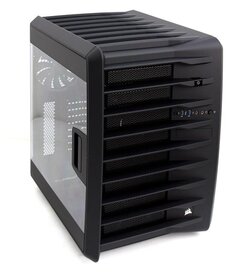 Review Article form Guru3d
https://www.google.com/url?sa=t&rct=j&q=&esrc=s&source=web&cd=1&cad=rja&uact=8&ved=0ahUKEwiBi7PblvLOAhXJ2R4KHUUSB0oQqQIIHTAA&url=http%3A%2F%2Fwww.guru3d.com%2Farticles-pages%2Fcorsair-carbide-air-740-review%2C1.html&usg=AFQjCNGD36tpG5p1Bw2UA4LrEz9CKSGMMg&sig2=QwFrn-tCq-z3R9FeJ5SqQQ&bvm=bv.131783435,d.dmo
So lets hear everyone's thoughts. I personally am a big fan of the original air 540 and this looks like a good upgrade on that. The new styling is a little more aggressive than I care for as I like the boxyness of the original air 540 but until I get one in hand (gonna have to try and con someone into getting me a review sample
) to really see the styling I will reserve my judgement. I did notice that there is no supports for an optical drive in this new series though which may be a sticking point for some. On the flipside though it looks like it is now possible to fit 7x120 worth of rad into this thing without the need for modification. Well enough from me for now and I hope to hear everyone's thoughts.