I've wanted to do this for several years now and finally got my hands on a Micrel LDO (Low Drop-Out) variable regulator in the 3A flavour, model number MIC29302WT (formerly MIC29302BT). Micrel makes several variable and fixed LDO regulators with different specs and for various applications, and it so happens that most of their variable regulators are available in a TO-220 package with five pins which makes them perfect for perfboard/stripboard DIY projects. The amazing thing about these regulators is the very low drop-out voltage of only 350mV at full power, which means that the max output will never fall below 11.65v if you feed the regulator with a steady 12v supply.
Surprisingly, I found the Micrel regulator considerably cheaper than the 5A-rated LM1084T-ADJ that I had been working with previously, to the tune of almost 3:1 price ratio, so I bought three Micrel regulators for my current DIY fan controller project.
The circuit is very simple and requires only a handful of components in addition to the regulator. Credit for this circuit goes to
http://www.pcsilencioso.com/cpemma/index.html
.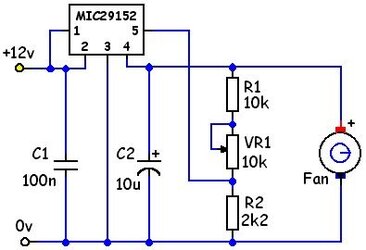 The regulator here is the 1.5A version but the pinout is the same for the 3A and 5A versions.
Here's my circuit on breadboard. I've used different resistor values for R1, P1, and R2 to alter the output voltage range. I've used R1 = 6k8, P1 = 47K, and R2 = 18K for an output range of 4.5v to 13v (approx). I've also used different caps as I only had 100uF available. For the final build I'll probably be more selective.
I've tested the circuit on my main PC and measured the following results:
San Ace 130mA fan: max output voltage
11.95v
Delta 800mA fan: max output voltage
11.76v
These results are very pleasing indeed, as I don't plan to use high-powered fans with my controller but would like the option of using them as near 12v as possible. The LM1084T-ADJ barely manages 10.5v at full whack and has a dropout of almost 1v with no load, so despite it's higher current rating of 5A it's obviously the underdog here.
Stay tuned for further progress on this fan controller.