Benching Team Leader Super Moderator
A10-7870K
Over the last week I have trying to get a 7870K AMD APU to behave. Maybe I should have waited before I hit it with LN2 but I didn't. I thought maybe the cold would help since I was pushing it pretty hard. Turns out that was the problem after all. My water loop at home runs at approx-15c give or take and the the CPU would get almost to the end of a 3DMark 03 run and quit during the nature scene. Being a longer bench mark I assumed that it was getting too hot and just locking up. I was getting the same behavior in Heaven extreme and also in Catzilla 720. So I prepped the board and went to work under the pot. I already knew that the 7870K had issues with the cold but was supposed to be good to at least -50c. So I struggled along for 6 hours Saturday. Upping this voltage lowering that one. Changing ram stick timings, NB speed and GFX speeds all to the same ends. It was literally driving me up the wall. I was about ready to chuck the whole thing against the wall when I thought lets see what happens when I let it get a bit warmer. At -10 on the pot I finally finished a run of 3D03. OK then maybe I'm onto something. Seems the harder I pushed the iGPU the warmer it needed to be ??? Weird I know but in the end I ran it with the pot at ~20c and BIOS temp of ~30c and finally managed to get the runs i needed for the DIV V competition.
http://hwbot.org/submission/3141696_
http://hwbot.org/submission/3141702_
A10-5800K
Now this APU behaved a lot better. Ran full pot a -180c It did OK and I have to wonder if I'm missing something. I do know I was just plain tired Sunday after benching till 2AM the night before and it's evident in my ram settings. Someone forgot to move the speed back up after going for another hail mary run at top speed so my points may have suffered a bit. I still managed to get 2nd in both SPi even with the crappy timings. I still think something was holding me back from top speed. I get to 6.5 no issue but anything over that regardless of core/nb voltage would crash instantly. I later thought that I should have dropped the GFX core speed but too late now. I just wanted to get some benches in before I ran out of juice so I was a bit sloppy. But here are a few pics just for fun.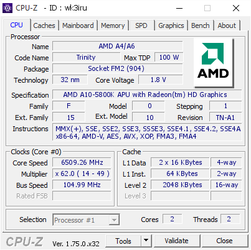 http://hwbot.org/submission/3143237_
http://hwbot.org/submission/3143249_
http://hwbot.org/submission/3143257_
For some reason I can't get this image to work?
A couple of cold pics.
Full pot boiling under load at 1.9v
And one I just like to call THE FOG. This is the 6700K I believe