Running Win 10 Pro on a R5 3600 /w 16 GB RAM. Doing an archive of my firefox downloads, 80 GB from my 1TB WD black NVME to my 4 TB WD Blue. The WD blue always gets over 100 MB/sec, reading or writing.
For some reason though today, this transfer has been dipping below 1 Mb/sec... and even hovering around 14MB/sec. Just way too slow, and I closed out and tried a second time.
Yesterday I moved a 40+ GB archive from the HDD over to the NVME in order to extract it faster, and that moved very quickly. Today... 20 minutes for 80 GB???
It first said 2 or 3 minutes for the 80 GB. Now I'm 5 minutes in and it is saying 21 minutes remaining.
I've had this problem before. Why is this happening? Hoping someone here knows what is going on. There are many, many tiny files included... but would that slow this down by that much?
A reboot would likely fix it, but I normally leave this machine on 24/7 without rebooting for days at a time... reboots are annoying! Any info appreciated!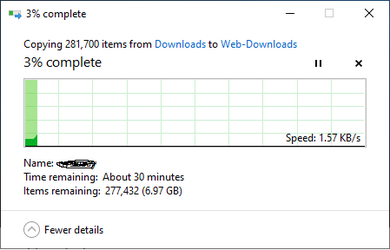 I haven't used windows since Ubuntu 16.04 came out... so only been back on M$ for two or three months. Had been using linux on everything since I last used Win 8.1, so I'm 4+ years outta date on anything windows.