How's everybody doing? I'm new to this forum (even thought i joined a few years ago)
So, i have some low end budget/ancient pc that i've built from parts that i had laying around my house (AMD Phenom X3 8450 oc to 2.6ghz , Biostar motherboard, 4gb ddr2 800mhz ram, 500gb hdd, techsolo 730w psu) and i needed some cheap gpu that could play hd videos, could be hooked up to tv and occasionally play some light games on lower settings...
And i started browsing local forums and found a used GT730 for cheap(like 30$ which is pretty cheap for my country as we have huge tech taxes)...
Without too much thought i went to the seller and bought it(after testing it in his pc with crysis 3)
I came home, installed the gpu and drivers and gpuz and then i noticed something?
This is the "reference" model Nvidia GT730 4GB GDDR5 128 bit that officialy doesn't exist?There is no this model on nvidia site?There is only one image of this card on the whole google?Its dual slot( dual slot gt 730 really?) with big cooler with nvidia logo, blue pcb and its made in china?
(heres a gpuz pic of mine, i've overeclocked it a little, but look at the gpu and cuda cores?)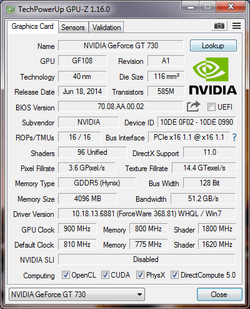 and now have a look at lets say Zotac verision
They are not similar at all?
The card can actually play crysis 2 at 900p on high-utra setting 30-40fps
Far Cry 3 medium settings 30fps locked, snipper ghost warrior 2 maxed out 40fps so its actually not that bad...
But when i try any newer game lets say like a dirt rally with settings on medium or high, drivers( 3 different i've tried so far) start to crash, texutures missing, all kinds of colors and blocks on the screen? But the gpu and the whole pc passes every stress test possible?temps never go over 60c
And after reading all kinds of horror stories with fake(re flashed bios) gpu-s that have flooded the ebay recently i dont know what to think?
it looks like this(the only pic of it on the internet) but has nvidia logo on cooler

I've disassembled the card and it indeed says that its gf108 and samsung memory?
Cards specs looks like a gt630 or gt440 with double the memory?
What the actuall f?
Last edited: