Hi All,
I am attempting my first hard line water cooling loop and after some advice.
I have the following:
2x 360 GTS radiators both with ML LL120 fans.
Phantek Evolv X Case
Barrow Waterway Board (with DDC pump)
I am intending for now, to only water cool the CPU as i am planning on upgrading to a 2080 ti in a few months.
The loop i have decided on (unless you guys know a better way) is: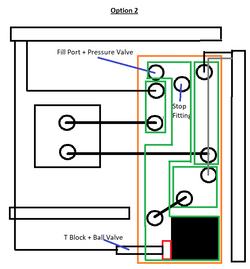 I am struggling on the loop from the radiator on the right to the waterway board.
The one nearest to the board is very tight and no space for any tubing (i did try, but it is not secure). As such would some extension fittings (thinking 10mm) and a double rotary 90" fitting make this possible?.
The second radiator path, i am thinking similarly to use a 10mm male to female extension fitting and a right angle fitting, then just running some tube with a 90" bend. Does this sound a good idea?.
Any advice/recommendations/improvements would be greatly appreciated.
Thanks all.