Joined

Aug 30, 2004
Location
Hello everybody,
I hope this saves people who are interested in overclocking their 750Ti a bit of time and effort. I spent many an hour scouring the web and managed to glean enough information to obtain a successful overclock. Perhaps most of this is old news and pretty obvious, but it was not obvious to somebody getting back into the desktop business after a five year hiatus such as yours truly.
Card:
ASUS GTX 750Ti (with a 6pin power connector)

Problems encountered
Low boost clock (1325 MHz)
135 MHz Boost offset limit
Core voltage limited to approximately 1.21V
GPU BIOS Flashing
Tools required are attached to this post. (GPUz, Kepler BIOS Tweaker 1.27, NVFlash)
Download MSI Afterburner to overclock.
Use the WHQL 335.23 drivers to remove the 135MHz boost offset cap. The latest beta has the 135MHz cap.
Save your stock BIOS from within GPUz as shown. Store this in a safe location (email it to yourself) and make a working copy of it in a different location.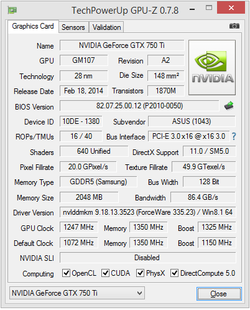 In order to overclock this card we must increase the TDP power limit. Fire up Kepler BIOS Tweaker, open the working copy of the BIOS you saved and edit the TDP limit as shown. A good way to estimate a practical TDP limit is by using FURMark. Run the burn-in test at a high resolution and high AA. For the settings below, my card hits 80~89% TDP. As far as I can tell, there is no harm is raising the TDP value to an arbitrary number in the BIOS. Of course, I'd advise you to do your own research first.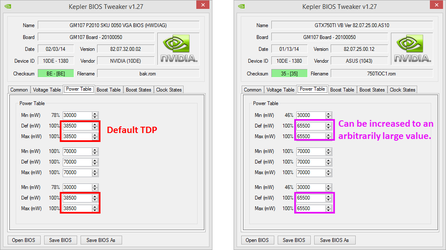 Next, increase the base clocks. This is the frequency the GPU will default to. The ASUS card barely hits 60 C in games, so throttling is a non-issue. The Boost clock is the frequency at which Boost is applied. For example if your Boost clock is 1100MHz, then once the card ramps up to this frequency state, a boost is applied. Set the Boost clock to say, 20MHz above the base clock as shown.
I have not messed with the Voltage table, Boost table or Boost states yet because I don't know what each entry exactly means. I will take one for the team once I procure a backup/rescue card.
Save your BIOS. Now let us flash the GPU from DOS (flashing from within Windows did not work for me). Grab a copy of NVFlash (attached)