Joined

Nov 19, 2004
Location
I have spent a pretty good chunk of time trying to get my RAM speed up from stock for some time now. I have read various OC guides and have used the AMD Timing tools.
The highest 100% stable I seem to be able to achieve is 3066.
My RAM is in my sig, its Samsung B-die, single rank, rated for 3200 at 15-15-15-35 1.35v.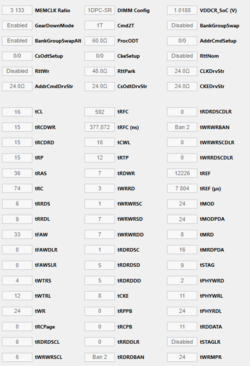 I have SOC Voltage at 1.025v, DRAM Voltage at 1.35v, VTTDDR at 0.670.
It passes 4 hours of multithreaded memtest86 using all tests but #13 hammer test as well as 4 hours of the memtest (HCL?) provided in the Ryzen DRAM calculator tool. However, it will fail Prime95 large FFT test after 30 - 90 minutes or so or BSOD every so often in games. It was much less stable until I increased tRFC to 592 from 408.
I have tried just about every combo of ram voltage from 1.33 to 1.4 and SOC from 1.01 to 1.1 as well as the various procODT and RTT settings as recommended by the timing calculator. So far it seems to be happiest with the posted settings.
I was kind of wondering if it may be heat related since Prime95 seems to heat up things the most, about 65C CPU and it does not seem to fail when I reduce the number of test threads from 16 to 15 or 14 but then again, I am not overvolting or overclocking cpu and despite stock cooler my airflow is pretty decent I think, motherboard seems to hover around 35C under load.
I am kind of at a loss as to what to fiddle with next. It took me a fair bit to get this far. Most of my tweaking before resulted in no-boot or memtest errors right away. Do you think I may just be at a wall with my ram and cpu and should just focus on tightening timings at 3066? I seem so close to 3133 though. This great write-up,
Demystifying Memory Overclocking on Ryzen on Reddit
helped immensely.
Last edited: