Benchmarking Senior Member
Joined

Feb 5, 2005
Location
http://gooc2008.gigabyte.com.tw/index_en.html
On the 25th of this month, Gigabyte will be holding it's annual world Championship!
This event will bring some of the worlds best overclockers together (52 of them, in teams of 2) to battle it out to see who is the best!
Each of the finalists have already had to qualify and win their regional heats to receive an invitation to this event.
OCF will be well represented, with no less than 3 of it's benching team taking part.
Please show your support for the OCF members that are taking part at this event​

.
Please go to this web site
http://gooc2008.gigabyte.com.tw/index_en.html
and along the top you will see "contestants" click on that, then click on "Australia" or "USA 1" and vote for us.
You will need to put an e-mail account etc etc in, but it would be great if you could.
Not sure which one of us you should vote for ?
Easy....Both!
One of two ways.
Vote for me today (under Australia) and then Ross/Mark tomorrow (under USA 1) You can vote once every day.
Or
Help set up an account for your Wife, Mum, Dad, Brother etc etc (all of the above) And have one/half vote for Ross/Mark and the other/half vote for Myself/Dino
After you have voted, please post in here and let us know, it would be great to hear from you all.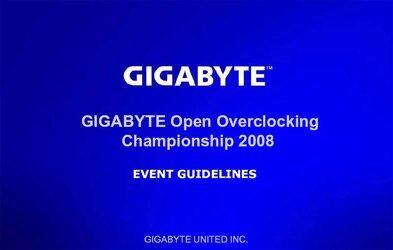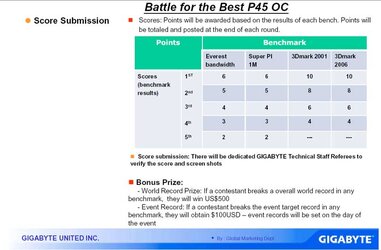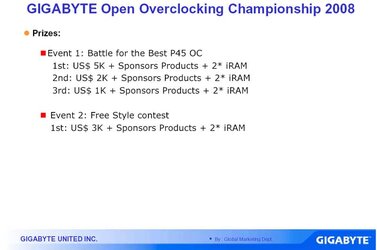 Contestent list so far
Team South Africa: s e t h and TraX
Team Singapore: NightRaven and T_M
Team France/Belgium: Pt1t and Boblemagnifique
Team Indonesia: Benny Lodewijk, Hazzan and Andre X_X
Team India: harshal and ?
Team Thailand: ZoLKoRn and ?
Team Sweden/Finland: elmor, Sampsa and SF3D
Team Sweden(2):
Team USA(1): Ross and El<(')>Maxi
Team USA(2): FUGGER and Vapor
Team Iran: ARH and ?
Team Italy: giorgioprimo and Dimas
Team Greece: hipro5 and partner
Team Russia: DeDaL and NeoForce
Team Türkiye: hey and tosunermc
Team China(1): 1.time, artkobe
Team China(2): Victor and CD-Key
Team NewZealand/Australia: Deanzo and dinos22
Team Hong Kong: Lok and Tat
Team Malaysia: Sup3rfly and irenic
Team Vietnam: Recoba and tsondt
Team Korea:
Team Japan:
Team Germany:
Team Egypt:
I got the prize list for the people who win the "Guess the Winner" contest.

These prizes are only available for US residents

, but you don't have to vote for Team USA(s) if you don't want to. Winners will be randomly selected from those who correctly chose the winning team.

Click the link for the event site

, click the Guess the Winner banner and just follow the instructions

GIGABYTE M912 notebook with 8.9" touch swivel panel – 1pc

GIGABYTE GA-EP45T-Extreme – 3pcs

GIGABYTE USB 2G USB drive – 50pcs

Graphics Card – 9800GT – 5pcs
Last edited: