Hi guys, I have just put in a new Gigabyte RX 460 Windforce OC 4gb card! For some reason, displayed in GPU-Z and in radeon driver software and anything else i check with, my gpu load is always at 100%.
In games however, i am not suffering low FPS and when not gaming, as far as i can tell my temps are normal at around 45C when not gaming and fan speeds stay around 800 as i guess they would at idle. It seems as though it is only displaying 100% load but not actually doing it although i cant be certain of this.
I dont think i have bitcoin miner virus or anything like that, although my old gpu died recently, hence the new rx 460 and i havent formatted the system, iv just installed the new card.
When i do open a game or a stress test, the cards temp jumps up to 65-70C, when not gaming its 45C...... Im stressing about this 100% gpu load issue as im now thinking this could be what killed me old card and i dont want it to kill this card now. Its just strange that i have no loss of performance and the temps arent high all the time. Also with a coin miner, 100% would fluctuate as it works then stops, works then stops, my card however is at 100% the entire time.
Any ideas would be great guys as i have scanned the hell out of my ststem and cant find anything like viruses or malware.
My driver is 16.10.1, i have tried other drivers and the issue persists with all. I have pics from GPU-Z too........
Thanks guys.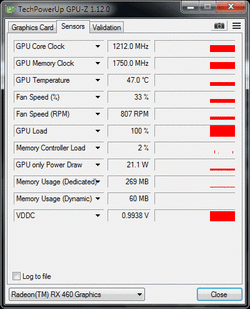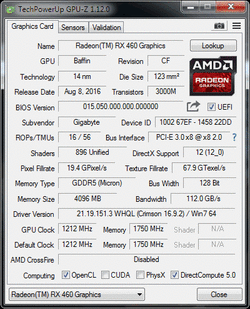 - - - Updated - - -
Ah i forgot to mention, 1212mhz is boost speed for this card, which it is ALWAYS reported at too. Which is another reason im worried it actually IS on 100% load constantly!