I ordered a HD3870XT to put in CrossFireX with my HD3870X2 .. I also got a new PSU, an Akasa PowerMax 850w .. The card I got sent was the wrong one, it was an ATI OEM card with a zalman copy cooler that gives of a high pitched whine so tomorrow I'm going to send it back for a slightly higher clocked, better cooled one ... But I didn't see any harm in running 3D06 and a few games on it before it goes bak

The performance gain in 3D06 isn't huge, but its not much less then a pair of X2s so this will tide me over until the X2s come down in price further and I have enough cash ...
Here's the two cards in my machine ..
Here are the clocks of the cards:
HD3870X2 Cores: 825Mhz
HD3870X2 Memory: 900Mhz
HD3870XT Core: 775Mhz
HD3870XT Memory: 1125Mhz
My HD3870X2 on its own scores 18045 in 3D06 at stock timings
Ok .. HD3870X2+HD3870 in CrossFireX @ 1280x1024: 19526 3DMarks
​
HD3870X2+HD3870 in CrossFireX @ 1920x1200: 18371 3DMarks
​
HD3870X2+HD3870 in CrossFireX @ 1920x1200 + 8xAA/16xAF: 12089 3DMarks​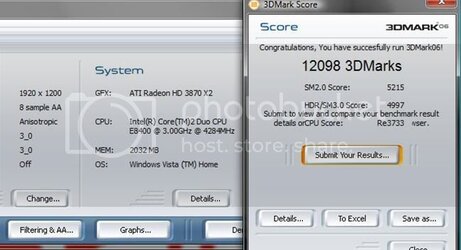 I then put the clocks of my HD3870X2 up to 891/981 but the boost wasn't very significant as my score only went up to 19655 3DMarks
I'll post game benches later on tonight .. Crysis and S.T.A.L.K.E.R. will be it though .. Also I'll post full overclocks when I get a better card ..
Cheers