Need a little help understanding what and why i want to do.
The basic Gist of it is i want my computer to look like this when i log on to and click the network button:
Now im pretty good at home networking, port forwarding and things like that. But I have never really set up a VPN (Which I am assuming is what i want). Now i have a non static IP address at my home and the destination that i want to talk to doesn't have one either. I am a bit of an ubiquiti fan boy and my house is set up with a USG, and a few Ubiqiti switches. The site that i want to connect to is my parents house and i want to network them together.
I understand the typically there is a VPN server and a VPN client. I want this network to go both ways. I want to be able to look at their files, Remote into their desktops for troubleshooting etc. and i want them to look at my pictures of kids and such. I was hoping maybe i can make it hardware driven so i wouldnt have to put a software VPN on computers, and i think this is possible but im not sure.
Right now this is how the network would look and i dont know if it is possible to make a VPN service like this: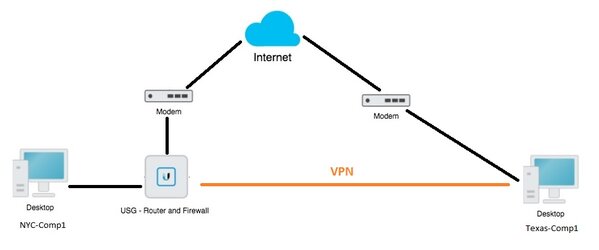 I know this is a fairly simplistic drawing, but im hoping you can see where im going with this.
I do know the USG can do a site to site VPN which i assume would look like: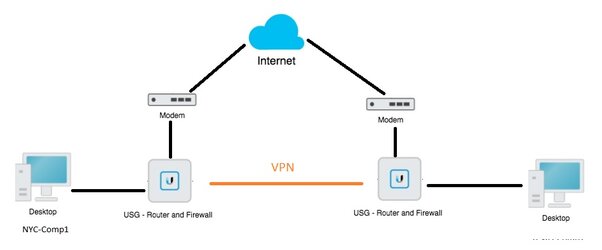 I think this would make a hardware vpn site to site, but im not sure.
If anyone could point me in the right direction, I would really appreciate it. Ive been on Youtube All day trying to figure this out.