So I don't quite understand this and Im hoping that some of you may be able to shed some light on this for me. In the image below i have 2 different scores achieved with the same hardware. One score is higher but looking at the details there are some scores that are actually higher on the lower scoring benchmark. I have been experimenting with using ASUS GPU Tweak and have had mixed results, but for the life of me I cannot get the same score of 7510 again, no matter what i do!!!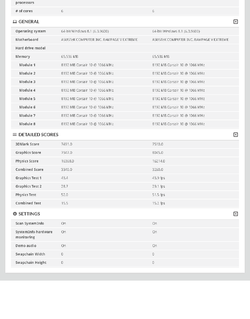 More specifically I got a higher physics score and a higher combined score on the lower scoring run, which doesn't make sense to me if the total score is higher on the second run.
(And my results are shown as not being valid because i have the newest driver. I went back a version for my driver to get a valid score and this is what i was able to reach )
http://www.3dmark.com/hall-of-fame-2/fire+strike+3dmark+score+ultra+preset/version+1.1/3+gpu
I was happy to get 98th place in their hall of fame for x3 SLI setup. But I can't help to think its possible to get much higher when I look at other hardware combos of people that scored WAY WAY higher than i did.
I am open to reading to, I'm just trying to learn as much as possible here so i can further my benchmarking skill set
Thanks!
SnowBiz!
Last edited: