Hi I'm fairly new to overclocking and have just started on my own. I want to achieve a clock rate of 4.4 - 4.5 GHz but so far I think I'm getting crap results.
Here are my specs:
- AMD FX-8350
- Cooler Master Hyper N520
- AMD 9 Series FX GA-970A-D3P
- XFX Raedon RX 580
- Kingston HyperX FURY 16GB (4x4GB)
- Corsair 620W PSU
- Windows 10 Pro 64-bit (on SanDisk Ultra Plus 256GB SATA 6.0GB/s)
So far the only things I've configured are:
- Disabled C1E, Cool & quiet, Core C6 State (I was told power saving features cause throttling)
- Enabled HPC mode
- Changed CPU clock ratio to 22 (4.42GHz)
- Changed voltage to 1.41 V
This is what CPU-Z shows before running Prime95:
This is what it shows immediately after running Prime95 (blend test) and the values stay this way as long as it runs: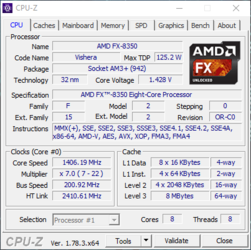 So, my guess is that if all was done correctly, the core speed should stay consistent at about 4400 MHz for a period of time without crashing?
For my voltage, anything lower than 1.4 V causes system to crash upon blend testing.
Is there anything I can do to fix this?
Thanks and Merry Xmas!
Last edited: