Recently, I decided to work on a hack job build. For $200 I bought an HP LGA1366 Z400 motherboard, W3520 Xeon (came with hp board), X5687 Xeon, Antec 500w Earthwatt PSU from ebay, & 2x8gb Mushkin 1600mhz DDR3 from newegg. The Z400 workstation manual says that this board only supports the W35xx Xeon series but has the hardware to support the X55xx & X56xx Xeons. I did some research and found that the bootblock says yay or nay on what cpu the board will accept. I updated to the latest bios using the W3520 then slapped the X5687 in and voila, it posts. I installed windows 7 and it boots up. CPU-Z shows everything but the Vcore which seems odd. The manual also says that this board only accepts 16gb (4x4gb) of ram so I tried a 2x8gb config and again, it posts. I ran Prime95 for quite a few hours and everything seems stable, but there was still a lot of work to be done. To get this board to work right you will have to modify some pinouts due to HP proprietary. It will thow boot error codes for everything that has a disconnected sense pin (Front Audio Header, Front USB, CPU Fan, Front & Rear Chassis Fan). You can still boot with these errors you but you will have to press F1 every time you turn the computer on. It took me days of searching to find the pinout schematics for this board. In fact, I made some pinout sheets myself because half of the ones I found had broken links. To make it easier on someone else I will provide schematics for the pinouts so you know exactly what to change where and how.
Here is the ATX to HP Z400 PSU Pinout. It doesn't really matter where you get your 12v but I have seen people jumping 12v from other 12v on the main connector or using two female molexes with one 12v wire on each. I decided to chop all the molexes off since I have no use for molex. I terminated and tucked away all but the two remaining 12v and butt connected them to the +4 connector wires.
I tried using other usb headers but the "front usb not connected" boot error refused to go away and the headers don't work for some reason. So jumper this pin to fool the system in to thinking it is connected.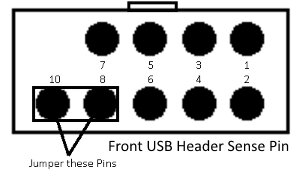 Here is the known front panel pinout.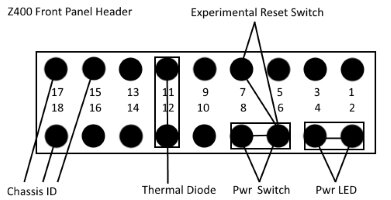 Here You can fool the system into thinking the front audio is connected or just disable in bios and add dedicated audio. I used a dedicated SB Live! 24bit.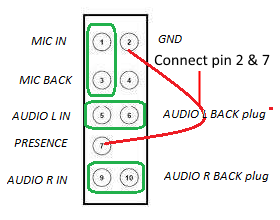 Ground this pin so CPU fan error goes away. I used a eyelet connector and attached it to the chassis.
This motherboard is like 90% ATX compliant because my case has a mount where there is no hole and the top right hole is off to the side. The HP cpu backplate sticks out more than a normal one so I couldn't thread the lock nuts on the 212 evo bottom bracket 100% but its all tight. The only downside is that the board doesn't sit perfectly flat it is at a 1-2 degree angle on cpu side in the case which doesn't seem to hurt. I can also get another board since this one was almost dirt cheap anyway.
Here is the motherboard tag and some screenshots from windows.
Here is some of the source information.
http://h30434.www3.hp.com/t5/Busine...ower-On-Off-Switch-and-LED-Cable/td-p/5053149
Tell me what you all think. Thanks
Last edited: