I recently finished building a new system, and I have a couple of noob overclocking questions.
-How fast should I have my chip overclocked for normal daily use?
-Should I overclock my RAM? It's sold as 3000Mhz speed, but I currently have it running at 3200 Mhz
-What is the fastest speed I can safely overclock my 6700k?
-Should I overclock my GPU?
Here's a screenshot of my in-game performance @ max settings.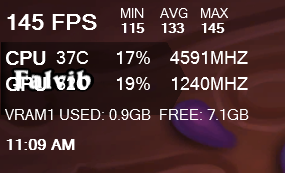 My system:
i7 6700k
gtx 1080
32gb dd34 @3000Mhz
2x 950 pro M.2 raid0
msi titanium mobo
kraken x61 cooler