Joined

Apr 20, 2004
Location
Still doing this so I can find what I wrote...
...wrote and not have to do it so many times.
Little debate about using C-Type fans which in 99% of all situations will not cool as well as a Tower type cooler. Tests just about everywhere can show that previous statement to be true. Probably even more so than that, I believe such statement is true and why what I am writing about is the VidEdit configuration that I put together Oct of 2014 but also called it the build of Unfulfilled Expectations because I was in a hurry and was not going to spend more money for air cooling when I wanted WATER. Hehehe.
Well I have tweaked and piddled and keep the fans and fins blown out and it is cool right now still so I started some more testing as I am going to go water here soon but I need to do some Video Editting and want stable and no lost files or time. So I did this little writeup since someone said there were hardly any "blow-down" aKa C-Type cpu coolers anymore. Well there are at least three that I found but they are very pricey. Almost three times the price of the CM 212 EVO cooler. Anyway what I have managed is out-lined below.
Noctua NH-C14 blows down.
Phanteks PH-TC14CS, a single tower C-Type blows down.
Grand Kama Cross 2 by Scythe blows downward.
Now all three of those coolers above would likely cool better than the 7 year old EnzoTech Ultra-X C-Type cooler I am using. But that Ultra-X had been unused in a box since I bought it for another system that went water cooling. So rather than buy another air cooler since I plan to go water on this rig...I just tried the EnzoTech Ultra-X to see what it might do. This build was originally titled Unfulfilled Expectations since I was very doubtful of the cooling and still am since that FX-8350 likes to do 4.8Ghz and edits the P out of my videos at that speed.
But we have to pick our battles in order to not win a battle and loose the war. I am very familiar with this FX-8350. I have it in an Asus CHV-Z board that has a great VRM circuit in it. The heat sinks on the board are good. I have a case that points a 'side mounted' fan right into my C-Type cooler. Good fan drawing air out the rear of the case. And I also only have a 7770 ATI video card in the PCI-e slot and it does not run hot. Plus we are not into full on summer yet here in Mississauna.
It is very likely that if I lose any of those points above as battles...then my 4.7 or 4.65Ghz are likely a lost war. I did not ask anybody what the outcome of what I was trying was going to be. No need to since I had already laughed that the build was titled "unfulfilled expectations" and was prepared to really have to throttle back the cpu speed. Over the course of about 3.5 months of tweaking and trying I managed to get the CPU_NB to stay stable with less volts = Less heat. Adjusted Cpu Vcore and tested many times to get down to that 1.404 you see.
So the 4.7Ghz war was won by winning many smaller battles any of those battles can have lost me the war. And summer will rein in some of my cpu speed or I need to get lead out and go water and then will likely need fan on VRMs. Just the facts as they usually happen.
Annotated pics below should fill in the "rest of the story".
RGone...
C-Type cooler currently in use.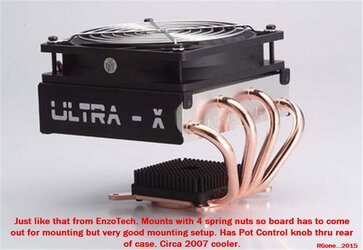 My good fortune to have side mounted fan blowing nearly straight at my C-Type cooler.
Some HWMonitor Free with CPUz CPU Tab. Plus OCCT running about 20Mins for effect.
AS in anything computer and overclock related > YMMV and I still think "if" I was going to spend any money on an air cooler for a cpu cooler it would be tower style as they seem to outdo almost any type C-Type cooler.
RGone...Again.