Ok, so I posted another thread about mods I've done to my LEPA AIO but recently decided to dump a bunch of money into
removing the AIO
and making it a full custom loop.
System Specs:
Rampage IV Black Edition
i7-3930k
32gb 1866 HyperX Beast Ram
Zotac 980ti Amp! Edition
Seasonic 1250 PSU
Thermaltake Core P5 (green)
LED strip kit
LEPA EXllusion 240 AIO Cooler
Old post photos so OC panel isn't correct to what it is now.

Here is the parts ordered:
PrimoFlex Advanced LRT 3/8in. x 1/2in. Tubing Bundle (10ft pack) - Bloodshed Red 26$
Swiftech MCP50X $69
XSPC RayStorm Pro Black 80$
Swiftech G1/4-MMEXT-LONG-BK G Male-Male SLI & CrossFireX connector fitting (to direct connect to inlet of pump and to res) 11.99
EK-FC Titan X - Nickel (Original CSQ) used $60
Alphacool Eiszapfen G1/4" to 10mm ID, 13mm OD Compression Fitting, 90° Rotary, Deep Black, 4-pack 38$
another 4 pack of titan rig barbs 10$
With my current modded AIO under Prime95 Small FFT test I'm stable at: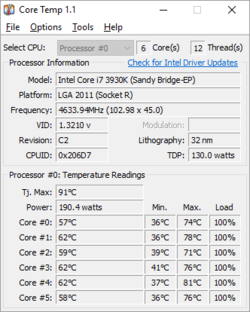 My thing is, will I see a noticeable difference in dissipation and temps or did I just drop (total so far) 500$ to add a GPU to the loop.
Last edited: