Joined

Nov 21, 2009
Location
I just pulled out my old 2005 HP Pavilion Entertainment laptop from 5th grade and I don't think I've ever seen anything like this. My CPU is idling, well, fluctuating, at 60-70 degrees
celsius.
My first thought is a lot of dust, although it's had its share of use from my sister playing runescape and such :/.
I've really never seen anything like this. Here's some speedfan screens:
Right after boot: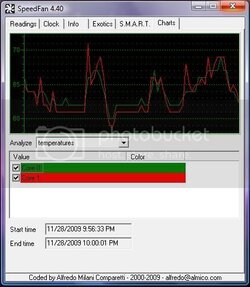 5 minutes after that: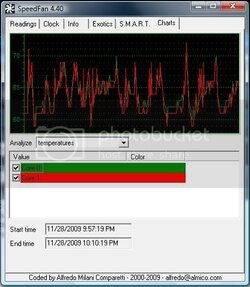 It doesn't even seem like it's at a consistent temperature or anything. Cores are both at 1.83 GHz, no overclock (no option in BIOS to overclock or underclock which is a shame) but damn. Anyone have an idea what to do? Clean it out, if my dust theory is correct? Otherwise, is this laptop screwed?