Foreword:
This project has already moved on but I wanted to post the development. Things started simply enough but slowly grew arms and legs!
This is the initial design I built my project around:
Overview
Used to have two PNY Quadro 3700s as this was my CAD rig.
Its no longer really needed for that so after receiving some currys vouchers I threw in the ASUS STRIX GTX 960
I know this won't compare to a modern gaming rig and that the hardware is very outdated. In all honesty I don't even really play a lot of games.
I do however have a soft spot for this machine and love tinkering so this will be watercooling for the sake of watercooling and overclocking more than anything else.
Mainly, I want to push this thing to see what it can really do, and if it can still hold its own.
Aim
No harm in having an idea of the end result. Phase 1 will just be focusing on the hardware and getting a stable overclock.
I can always look at hardline and the other mods once its up and running.
This is my first stab at the design. The loops looks a little messy in the basement but this will all be flexible tubing so less of a worry.
Looking for feedback and obvious mistakes.
Existing Hardware
Going to be reusing most of these parts to keep costs sensible
Parts to be replaced marked
red
Case
Silverstone TemJin TJ07B-W
Mobo
Intel D5400XS Skulltrail - 2no. Intel QX9775 @3.2GHz
CPU
2no. Intel QX9775 @3.2GHz
RAM
8 GB Corsair DDR2 667MHz FB-DIMM
SSD
250gb samsung 850 evo
PSU
1300W Tagan TG1300-BZ
GPU
ASUS STRIX GTX 960
Outstanding Issues
Fill/ Bleed
Still need to figure out the best place to splice in the bleed valve. Currently have the taps positioned next to the pumps.
Reservoirs are filled from lines accessed on the other side of the case.
Sensor/ Controller
Need some pointers on the control scheme for the waterloop. I already have an Aquaero 4 controller.
If I use fan splitters will this be enough for my purposes? I'm assuming the pumps can be run without electronic control and just set at a constant rate?
Any advice would be appreciated - Thanks for Looking
- - - Updated - - -
Southbridge Waterblock Update
Minor rethink in the design - Planning to re-use the fan from the original Southbridge to help dissipate heat. Also will drastically increased the surface area of the block and should increase heat transfer. Although the mini blocks are perfectly sized for this application, the smaller diameter tubing will reduce flow. Have compensated by designing in two blocks per chip.
Although this looks complicated - most of the assembly is laser cut. I have access to a small engraving machine which should be just about capable of machining the copper base.
The benefit is the low cost of the components. Raw materials are cheap too and I'm hoping to do most of this with off-cuts. Critically, I'm not machining anything that has to hold pressure - The loop itself is independent of any fabrication work I have to do.
- - - Updated - - -
Voltage Regulator Loop
Universal MB blocks cut to the correct size. Have to pass VR loop under the CPU and NB loop. Think this is where a different colour in the second loop would really make the Voltage Regulator loop stand out.
Southbridge Waterblock
Machining a custom Southbridge Block is out of the question. So I'm working on a DIY heatsink utilising GPU Vram Mini Blocks. Super cheap. That coupled with another universal MB block should keep things cool - just need to sort the tube layout.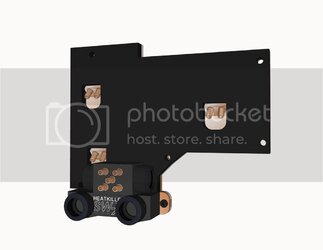 Mini Waterblocks and Splitters
Getting very tempted by UV reactive!