High Speed Premium Senior
I'm thinking of doing a slight overhaul to my main computer/rig area by adding a 8port switch (Nighthawk S8000) to my existing Nighthawk R7000 WiFi Router. With that I could add some nice speed increases to my network as is and more reliability and help balance the load a little more (more ether, less wifi on heavy usage items). Since currently only have 4 ports that are being used by, PC, NAS and VOIP as musts connects, it really limits me with connections and only 1 floater which I had connected to a game console but the cable is shot now. It fell apart at one connector.
The Cables
That being said I should really start at my cables... and umm upgrade them. I've had some as far back as 2000 that I use. While they do connect and transport data still at 1gig speeds, its a little wishy washy sometimes and the cables are really not that great. Really I have no clue what to get, whats ideal, etc? Eventually might need cables that can do 50-100' no issues, though it will be in a totally different location of the house. So that being said I added a quick little sketch of my current layout in the basement. Everything else in the house (upstairs) is connected via 2.4Ghz and 5Ghz WiFi. With the things in the basement, if I can I will try to connect it via Ethernet Cable. Majority of stuff, 5'-10'. My PC is probably closer to 20-25'. TV/Console area is 40' give or take a little. So cable runs won't be super long but I don't want a mix of 1 type here and 1 type here. Just trying to keep things simple. Suggestions?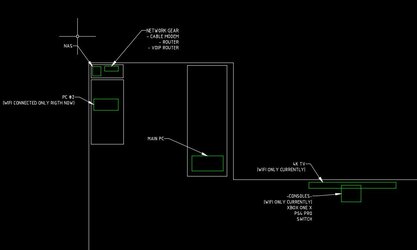 The Setup
Now dealing with the setup. Should I still use my WiFi router as my main gateway to the web? Have the VOIP and Switch hooked up to it + if I want something else connected to it? Would this be proper? Ideally My NAS (if I can) and future NAS box i plan on splicing 2x lan ports together to get better transferring rates between them (backups and such) so these would go on the switch. Probably the 2 PC's would also be on the switch. Suggestions with this that would be wonderful.