Currently I have a Coolermaster HAF Stacker. This thing is massive. I have the "sold seperately"*915F case as well for the full gargantuan tower. I was thinking of "downsizing" to a 900D. Pretty insane that that's a downsize. However, as it's a bit of an older case, I'm not sure it's worth the $350 price premium. I don't have any use for the 5.25 bays, so that's a ton of wasted space to me. If I go the 900D route, I may get a 5.25 to 3.5 drive bay thing, but I'd much rather find a case that either uses that space for watercooling res, or just additional fan spots. Kind of like how Caselabs does it.
I was looking at getting an SMA8 from caselabs, but that's even more money, and I don't know that I really need something like that. Some kind of cross between the 900D and the phanteks Evolv ATX would be fantastic.
Here's my current case (ramstick for scale, have no bananas)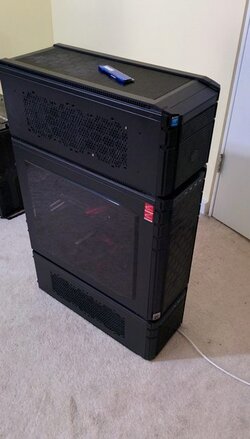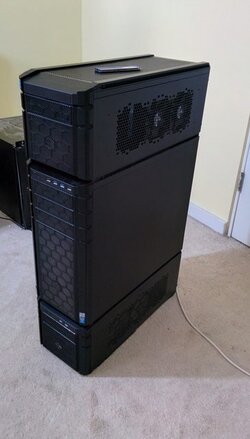 I would have kept just the middle section by itself without the top and bottom modules, but the top of it doesn't allow a radiator with fans. There isn't enough clearance. Only thing I can fit there is just fans. The case is also too long, so my h100i doesnt reach from the front of the case to the cpu socket. So, it's routed to the top module (thats the only thing in the top). The bottom contains 2 SSD's and 2 hard drives.*
My typical workload is a couple of VM's for work, one of which I am in literally all day. I'm a web developer mostly working in the backend, and I do a lot of stuff locally. Specs should be in my sig.*
Any ideas for what case I should get? Needs to support a full E-ATX board, as I have the EVGA x99 FTW K.