Making VGA-Dummy Plugs
By Jolly-Swagman
When running Multiple GPU's in one System, especially in Vista or Win 7 you need to have
extra Monitors hooked up to the GPU's in order to have them GPU-
[email protected]
Now if you Dont have extra Monitors connected to the GPU's another way is to Fool the OS in thinking there is one there.
Now the way to do this is via a VGA Dummy Plug, connected to the GPU via a DVI-VGA Adaptor.
This is how it is done
First we need a few items
3 x 75 ohm resistors
Soldering Iron & Solder
A Easy Hands Soldering Stand (If you have one, make life simpler)
VGA plugs and casing
DVI-VGA Adaptors ( 1 x for each Dummy Plug used )
The Items
Now we need to Solder 3 x 75ohm Resistors into the Rear of the VGA Plug see pinouts diagram below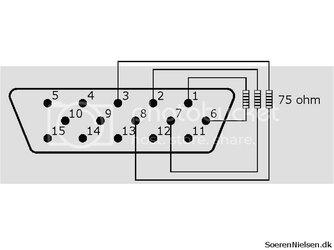 Pin Name Description
1 RED Red Video (75 ohm, 0.7 V p-p)
2 GREEN Green Video (75 ohm, 0.7 V p-p)
3 BlUE Blue Video (75 ohm, 0.7 V p-p)
6 RGND Red Ground
7 GGND Green Ground
8 BGND Blue Ground
Now we should have something resembling like this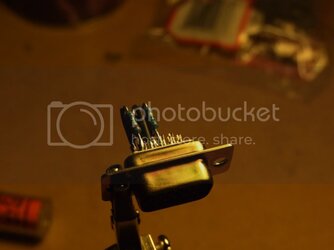 I usually put some shrink tube on so there is no fear in getting a short circuit
Then we pop the VGA Plug Shell Casing on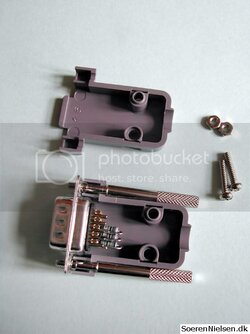 Now we have our DVI-VGA Adaptor and our newly made VGA Dummy Plug
Pop then together like so
Now you are ready to install onto your GPU- Video Card
Also here is another quick way, of Utilising DVI-VGA Adaptor to make a makshift Dummy Plug, wherby we just bend Resistors and pop them into the back-side of the VGA Adaptor.
This Method is useful for quick testing but the Preferred above Soldered Method for Long term use!
Hope this has been useful to you!
Thnk You
JS