Hi all,i posted this on the WC forums but i realise this was in the wrong **forums type** so i will repost it here.
Here is the actual Case (4Years old)
---¨the best cable management ever
Just for fun... the beast that is w8 a 750W PSU...
My other Comp Case i will just switch component -
Here is Dimension of Actual case
All has been made with Powerpoint 2007...
Now The Moding part a plexiglass rectangle extension that i wil lfix to the actualy computer case to put Rad + fan in there and be isolated from **the heat produced by other computer parts** and also to dont put the rad on hte back side of the computer its just look bad.
Dimension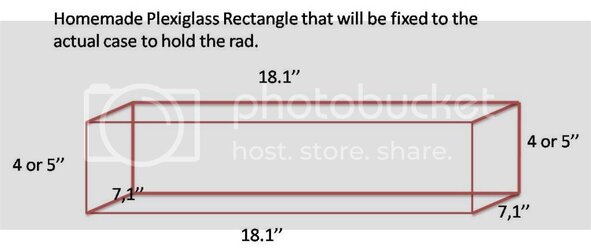 With Rad + fan
I made a error just note that they will be no TOP plexiglass and the hole will be made in the computer case **steel**
Exemple:
Case + plexiglass extension
Thank for replying / giving opinion and etc. etc. etc. etc.