After begging a friend for over a year to make me a pot once he got machine shop access, he presented me with this. Its made from barstock Al with the bottom press-fitted in. The round, lapped part you see sticking down from the square mount has a similar round piece that was pressed into the column. The bottom plate is once piece. I've finally put parts together for a benching rig which I will put together this weekend. I intend to use dry ice as it is readily available. More pictures to follow.
Rig specs:
CPU: E3200 2.4ghz, 800mhz fsb, 1mb
MOBO: Gigabyte DS3L P35
RAM: 2x1gb Crucial PC8500
PSU: Corsair TX750
VID: eVGA 7950GT
Please post! I want to hear what you think of the pot and the rig. I've never done xtreme cooling before. I have found some great links on mobo insulation guides.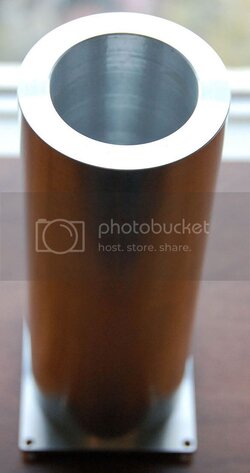 Last edited: