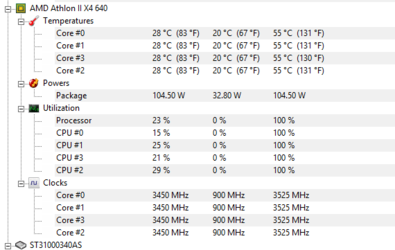 That is a screenshot from HWMonitor after playing Arma 3 on the default settings with a Gigabyte GTX 670 Windforce X3, 8GB DDR3, and the Athlon II x4 640 at 3.45Ghz and 104Watts from 3Ghz and 95Watts
The Cooler is an old one made for AM2 but works on my AM3+ Gigabyte motherboard.
Its called the Gigabyte G-Power Pro
Those temps are running the fan at 1500RPM.
In a few days I'm getting an AMD FX 8320 Black Edition which runs at 125 Watts stock so I will be testing that with this cooler I will post my results here if anyone is interested.
(if image doesn't work it idles at around 25C and max temp was 55C)