I just got my first SSD, G.Skill Falcon (1) 64gb. Came with FW 1370 ("1.10" ?)
Just initiated and formated as any disc, basic disc, "default alocation", NTFS, before i put anything in it i am checking if everything is optimaly set with it.
first benches :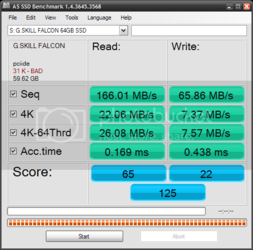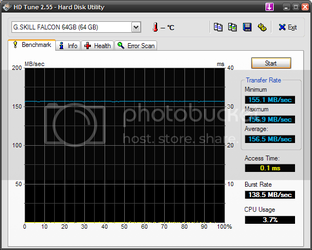 Thats an MSI P35 board with ICH9R and the only free available sata port is a Marvel Sata that is bound to the PATA/IDE channels. After switching to an ICH9R port i got slightly better results but still not where i expect them to be. Also tried with IDE and AHCI mode in the ICH9 port, no difference. (is it maybe an Intel Storage Manager issue ? .......)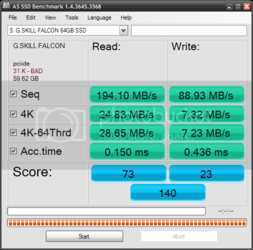 Then i upgraded the FW to 1571, still no change ...
I aligned / reformated the drive with 4096 allocation this time, still no change. (
http://www.ocztechnologyforum.com/forum/showthread.php?t=52912&highlight=ich10r+raid+guide
)
--- BTW, what is this alignment business ??? why AS SSD benchmark states the "alignment/offset" are as "BAD" ? and to what exactly the k number displayed there refers to ???
--- bit irrelevant, Should there be some second "advanced performance" option in the device manager HDD properties under the "policies" in XP or this is something found only in vista/7 ?
Last edited: