First of all props to Dolk!
Too happy to be here dudes! Hello to all!
This post may seem like it has no purpose, but I really need your help to push the Thuban further and correct some mistakes.
My build is:
GIGABYTE GA-990FX-GAMING
AMD PHENOM II X6 1100T BE (Silentium PC Fortis 2 XE1226 + 2*Akasa Piranha)
G.SKILL F3-17000CL11-4GBXL (2*4GB modules)
COOLEMASTER HAF 922 (2*200mm+1*140mm IN, 1*200mm+1*120mm OUT)
Phobya Touch 6 FAN Controller
COOLERMASTER V750 PSU
AMD Sapphire Radeon R9 280X Tri-X OC
Samsung 840 EVO 250GB
Seagate Barracuda Green 1.5TB
WIN 10 x64 PRO
CPB, Cool & Quiet, C1E turned off.
So I have found that stock voltages(1.375V) get me up to 3.5-3.6 GHz stable-ish. (did not test much)
For 3.7GHz(200*18.5) I need at least 1.4V.
For 3.8GHz(200*19) 1.42-1.45V
For 3.9GHz(200*19.5) at least 1.45-1.475V.
For 4GHz and above nothing seems to work.
I am trying to find at least a stable setup for 3.9GHz in combination with 1333MHz(200*6.66) RAM, because I have read that 1600MHz puts to much stress on the Thuban NB and I have found that 1333MHz has about the same perfomance and better latency, at least in my system. I did leave RAM at the default 1600@
[email protected]
, as I was trying to find the highest CPU clock, but after a point I tried 1333@
[email protected]
and got stabler. These settings are from the SPD. In the following screenshots, I also include one from AIDA64, as it shows some values that CPU-Z doesn't.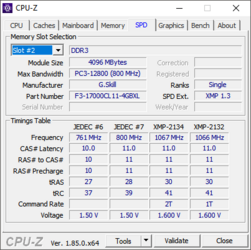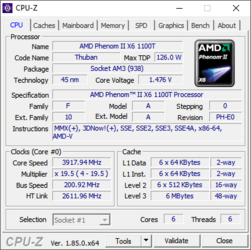 Sorry, I don't know how to make the pictures thumbnails-like and zoom in when you click on them... I guess if I knew Javascript I could do it. Well, I hope it doesn't hurt too much...
Yesterday, as you can see I was trying with 2600 NB & HT, and got the following:
Passed 2 hours of Small FFT Prime 95 (to find if the issues are NB related) and crashed in Intel burn test,so I thought memory related. I changed to looser RFC (my MB has 5 settings 90,110,160,300,350 ns),crash again. I upped the RAM voltage, crash. I even tried the default 1600@
[email protected]
, crash. Then I played with different NB-HT combinations to give room to the RAM.
Again only crashes in Intel Burn test and OCCT Large Data Set.
Just for laughs, then I wanted to see How High(impossible movie by the way, summarizes a lot
) I can boot and bench by disabling cores.
So I set 1.55V core & CPU-NB 1.35V with NB 3000MHz, HT 2200MHZ and:
4.2GHz 5 cores
4.2GHz 4 cores
4.4GHz 1 core
Then the BIOS refused to change to 2 cores, got unresponsive 2 times, did a CMOS reset. Good MB by the way, it was the only time last days it locked up like that, and I have tried numerous other bad combos of settings!
Here is a review of the MB, where the guy is awed about how easily you can burn stuff:
http://cxzoid.blogspot.gr/2016/06/oc-review-gigabyte-ga-990fx-gaming.html
True, there is not even a slight indication that you go above recommended voltage! My old GA-890GPA-UD3H had orange and red gradients...
So, today I had my best result so far.
3.8GHz(19*200), 1.45V core, 1.30V CPU-NB, 1.25V HT, 2800MHz NB, 2400MHz HT, 1333MHz 9-9-9-24(and the rest SPD settings)@1.55V RAM
Passed IntelBurn very high 10 Pass and I currently have Prime 95 blend running for 8+ hours, no errors.
Sorry I attached so many photos again, I want you to see temps and voltages as well, from the AIDA64 OSD I have on the right, throughout the tests. Ambient temp 27-29C.
Sorry I OCD so much, I am puzzled and want confirmation that my system is OK enough, to continue to push it to find the optimal balance...
Yeah.
Now I can give you my address to send that hitman. Or Dolk to send a flock of ironic pigeons to feast.
So, I believe that I now have eliminated issues with NB, HT and RAM and I can play only with the CPU multiplier and Vcore.
Well, I will probably OCD some more and see how the bench results change with different HT (because I am not so sure about that 2800-2400) and lower that 1.55V RAM...
To quote Dolk, Overclocking the Phenom II is a simply complicated task of check, and re-check for hours on hours a day. And tedious, oh so tedious, if I may say!
Can I ever get to 4+ GHz, or I just have lower grade silicon?
The ultimate goal is to also find an OC with about 1.4Vcore, because summer here will hit 40+C. These days it is 25-30C.
And maybe 205 FSB, because it also takes my RAM @685MHz and the timings I am now.
Guys, this is it!
Who am I kidding? Here are some screenshots of my BIOS!!!
What do NB Voltage, HT Link Voltage do? I raised HT a little(1.25V), thinking it would help with 2400MHz HT.
Also CPU-PLL raise only when raising FSB?
Thanks in advance for taking the time to read this unbelievable thread!!!