Overclockix Snake Charming Senior, Alt OS Content
Joined

Jan 24, 2006
Location
System specs:
I7 860
[stock cooling]
OCZ OCZ3OB1600LV6GK 6GB
Seasonic S12 Energy Plus 650W
ASUS P7P55D LE
Gigabyte GeForce 8400GS
I started off just running benches of the stock settings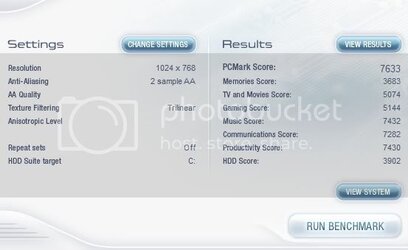 Then I bumped it up, keep in mind using the stock cooling.
I did stability testing for 2 hours then bumped it up again. This time I left it here.
Considering I am running this on stock cooling leaving hte voltage on auto. Stress tested 2 hrs again, so far no problems.
Really the only thing I adjusted was the cpu freq. This is the first time I have looked at an I7 of any sort and I haven't overclocked anything since my X3210 back in the day.
A lot of the options on the board I don't understand so I left just about everything as auto
I will be posting the settings I am currently using later. Is this about average for this chip?
Thoughts? Comments?