Joined

Nov 16, 2007
Location
I know that Printers are not something discussed much here but I was not having much luck Googling my question.
I have a Canon PIXMA MX922 printer. It is giving me a 5012 error code. Of course the Canon website was absolutely no help. I even found a transcript of someone talking to Canon tech support dealing with the same code that had no result . Along with this I cant even verify what part of the printer is causing the code (paper jam, scanner, ink, etc...).
My printer had sat unused for about 6 to 8 months - moved around a few times - possibly even jolted. I just wonder if some internal part got shifted causing some sensor to throw a code?? With a previous printer that had a similar issue I was able to force a complete factory firmware reset - but I cant figure out how to do so. The stupid code has the printer locked up. Either way if anyone has any ideas i would be grateful.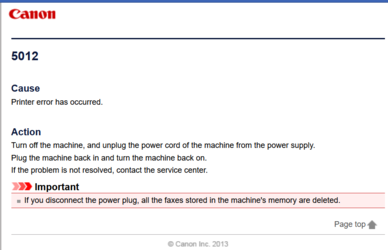 I guess this will give me the incentive to fix my Epson Artisan 837. - Clogged print head