Joined

May 6, 2020
Location
So I'm new to overclocking. I've been reading a number of forums and guides. I upgraded on a budget from an fx 4100 and hyper 212 plus and hd4670 gpu.
I was able to overclock slightly and be stable just booting windows 7 at x19 cpu on a 200 mhz clock at auto voltage on cpu core. If I changed the stock voltage up or down slightly it became unstable just booting windows. I used the guide below which was for an asus mobo, but I suspect the principles are about the same. (my current hardware specs are below along with hw monitor and cpu z screenshot.) If this is about the best I can do stable, I might as well stay at stock and have the boost get me up to 4.2 occasionally rather than just be at 3.9 on all cores. Also I haven't even run any test software which would show whether it's actually stable using occt or prime95 or hyperpi.
Guide I used:
https://www.overclock.net/forum/10-amd-cpus/1350335-amd-fx-8150-oc-cm-hyper-212-evo.html
I've also been reading about LLC on cpu or load line control/calibration. Sounds like that is supposed to keep the voltages more stable as the cpu goes on higher loads. I couldn't however find any setting on my mobo bios for this. I have updated to the newest bios update for my board. It's old of course with the latest being perhaps 2013.
So I'm curious what you guys would suggest for trying to get a stable oc a bit higher given my current equipment???
Eventually I'd like to get a ryzen 5 2600x with a likely b450 mobo and ddr4 ram, but that's just not in the budget right now.
Thanks for any suggestions!!! Cheers!
cpu: Fx 8150
cooler: Coolermaster ML240L v2
mobo: Gigabyte GA 97A UD3 rev 1.0 on F8f bios
psu: Evga supernova 750 80plus bronze
ram: 4x4 Gskill ripjaws
hdd: m4 128 crucial ssd
WD 7200rpm 1tb
Seagate 160gb
gpu: Powercolor rx570 4gb
net adaper: Gigabyte GC-wb867d-i
case: Fractal design focus g
os: windows 7 fully updated
Current HW Monitor and CPU Z in a 68' F room.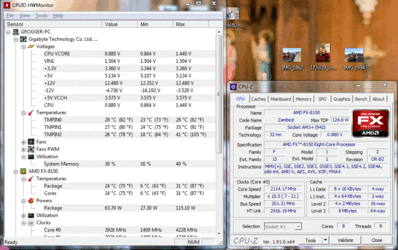 - - - Auto-Merged Double Post - - -
P.S. My cpu-z scores are currently at stock on the CPU. I went back to the stock config since the 3.9 was barely stable and not much of a step up from stock.
- - - Auto-Merged Double Post - - -
Also, I don't believe heat on the cpu is at all the issue, since I believe the highest I've seen is around 46' C in a 75' F room while on the most demanding game I play.