Any of you Comcast Internet users having frequent loss of Internet every day? I have been having an awful time with my Internet going out multiple times a day these past few months. Some days it's out all day! Browsing the Comcast support forums, I see that there are many, many others having similar issue as I am having. My modem signal levels are all out of sync. So I wonder if there is something major going on at Comcast's end? I've done all the necessary troubleshooting steps I could do, and that was recommended for me to do. I have even switched to a different DNS server but the problem still exists. I posted in their forum back in June for help with my issue, and never got a response. Finally, today I was able to get someone by way of PM to have a tech scheduled to come out this Friday. The Comcast employ says I need a tech to come out and adjust my signal levels.
I am using my own cable modem, a TP-Link TC7650 and I am connected by way of an Ethernet Cat 6a cable. I am subscribed to Blast tier Internet. My speed test results are great when Internet is working properly.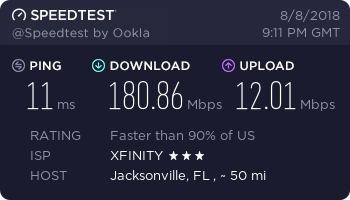 I have a few questions for you below.
1. Anyone else having similar issues?
2. If you had similar issues as I described and had the problem fixed, what did you or Comcast have to do to fix it?
3. Do you own the cable modem, or is it a rental from Comcast?
4. Did they charge you for the tech visit?
I am very interested to see what you all have to say.
Thanks
Last edited: