Babysitter for OCF Lounge Day Care, Still a bad-as
Joined

Apr 3, 2015
Location
Although quite preoccupied with tasks other than my precious projects…


The SwartHack is not one to pass on dropping some knowledge, sharing the wealth...so to speak...
When the opportunity presents itself.
One of my tasks has been some maintenance on my 24/7 rig Bruce Lee:
Including a significant storage/back-up upgrade...
The SwartHack knows about RAID. Crud, practically invented it!
I wanted to call it BOSHD, but it didn't stick.
...aahhh...I remember back in the day....ahh, the memories...
​
I can still smell the particular ozone odor of the Sun Sparc 1000, and it's ~16x128GB SCSI spinners…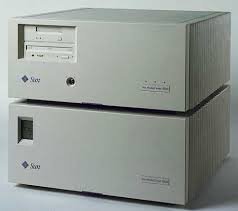 ​

​
Manually configuring each individually, defining the root slice, span or mirror partition,
​
weaving together a spanned/stripped/mirrored set-up of ~ 1.2 TB, or somewhere around there...
​

​
Nowadays they call it "RAID 10+" or something like that. Back then we called it "Farking Awesome"!!!!
​

​
Ahhhh...I could literally knock myself over by patting myself on the back re-living the old days of glory..
​
But that is not going to help enlighten the needy, so let's get on with the present why don't we...
SwartHack needed a better back-up solution to safe-guard all the critical data held on a typical 24/7 rig.
Yeah, yeah yeah. I use OneDrive, Google Drive, Visual Studio Team Services...
and whatever other "Cloud" I have access to to stash different, non-personal data.
But when it comes down to running a continuously available back-up solution,
including running File History and scheduled FULL Backups with images using
"Control Panel\All Control Panel Items\Backup and Restore (Windows 7)"...
Well then you need to control your destiny man! Don't be a HackRichard!!!

I played with "Storage Spaces", but it pretty much blows beaver chodes...
For a great and simple built in solution for internal drives, just use the good old fashion "Disk Management Tool".
For performance I set them up as RAID 0-striped. But no redundancy/parity. One disk crashes, so do you...
So what does SwartHack do? He sets up a RAID to backup his system disk and RAID.


Here is a quick run down on RAID which I think is more or less accurately breaks it down.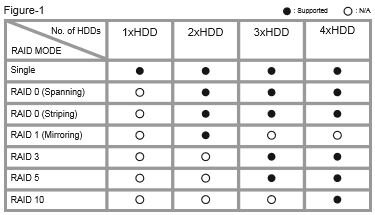 It is from the vendor, so filter accordingly. I like how it doesn't have any comments about RAID10???


And the current wiki definition:
https://en.wikipedia.org/wiki/RAID

Actually RAID 10 is a software trick/implementation. RAID 5 is best in my opinion...
But there we have to talk about Parity and disk capability, something I will not tread on here.

Make sure to read the Sticky in this forum for info on Parity and Shloads of other great info!


http://www.overclockers.com/forums/showthread.php/712279-Storage-Megathread-The-basics-of-storage
There are several different cults of thinking on RAID, so other sources may have different/contradicting definitions.

Think of RAID like Relational Theory. Although 5th normal form is part of Relational Theory, no database software can truly implement it.
Each vendor tricks their way around the true requirements defined in Relational Theory. Same with RAID vendors. Hardware or Software.
(C.J. Data, Introduction to Database Systems-Fifth Edition)
....crud..just lost all my readers...

Also, don't get caught up in the "Hardware vs. Software" orgy of arguments!!!
Think about it!!!
Even if you are using "Software" in windows to configure a RAID, does not mean it is a "Software" based RAID.
Yes you are using windows software to define the RAID, but t
here are on-board hardware/controllers that are doing the work required by the software!
AND
Even if you think you are running a "Hardware" based RAID. What do you think runs that hardware???
Yeah, that is right! "Software"!!!
Basically it comes down to Autonomy....
So, say you have a PCIe RAID controller expansion card, with its own "hardware", and "software".
It will impact system and I/O performance similar to that of the just using MS Disk Management,
or worse depending on vendor of said card. Stay away from PCIe RAID controllers anyway.
And even with the entirely "autonomous" system presented here, you are still pushing shloads of I/O through your USB.
I wanted to use an eSATA connections but ran into a problem, explained below...
Don't use an autonomous RAID for regular I/O activities. Just File History and MS Backup
Unless you are going for more of a NAS approach... argh! Hate that term NAS! misused as much as "Cloud"

Crank on your Internals and..



NEVER INSTALL YOUR OS/SYSTEM/PAGING PARTITION ON A RAID

, unless some doofy enterprise requirements.
Use an SSD for your main system drive!!!
So Bruce Lee has internal 3x2TB spinners
for its working RAID.
https://www.amazon.com/Hitachi-HUA723020ALA641-Ultrastar-7200RPM-Enterprise/dp/B00HRLI2FU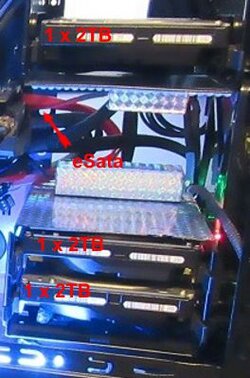 and a Samsung EVO Pro M.2 500 GB drive for the OS, etc. Awesome performance!
But it also prohibits me from using the eSata as SATA ports 5/6 are disabled when using the M.2.
(had to remove the red eSATA cables indicated in pic
I would go SSD on my RAID but cant drop ~$1500 for 4 1TB SSDs, for a 1TB RAID!!!
Once prices eventually come down and a 2TB SSD is available I'll eventually migrate to ALL SSD, internal and external a
nd go RAID5, the best in my opinion.
So speaking of drives, SwartHack started to think he needed to buy new spinners. ARGHhhhhh, NOOOO!
Cause here are the drives we were hoping to use:
2x2TB Seagate 7200/64 Barracuda's
1x1TB Seagate Hybrid
1x3TB Seagate ??
This unit, and most all RAID solutions recommended same size/type/vendor drives.



But the "I" in RAID means "Independent"??!?, I wanted to use my current drives but got sucked in a bit.
So I started shopping nice spinners. WOW, you can still spend some cash on a "enterprise" internal spinner!!
Here is what I was looking at: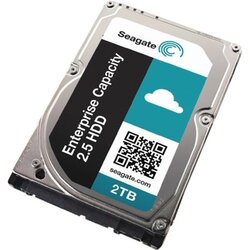 https://www.amazon.com/Seagate-ST2000NX0243-Internal-Enterprise-Drive/dp/B00SBEDWW0/
But in the end decided to to just "Slam-n-Jam" with my 6TB of disk space and see what happens.
So here we finally get to talking about the rig I got.
I shopped for some time to find what I wanted/needed.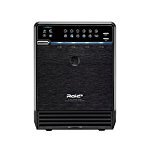 https://www.amazon.com/gp/product/B003YFHEAC/
This is also is a good example of a Autonomous RAID enclosure vs. just an external enclosure for internal drives.
Cause there is also this!!!! NOT THE SAME JANE!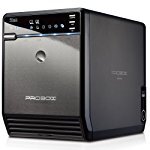 https://www.amazon.com/gp/product/B003X26VV4
In the case of the simple external enclosure, you could hook it all up and do the configuration in MS "Disk Management"
but OUCH, you don't want all that going on in the OS along with your working RAID!!!!.



For a small price difference get a RAID enabled rig.
But SwartHack was a little hesitant...
As this unit has the "One Touch" configuration. And that's it. No monitoring or configuring software!
It just does what it does and so far seems to be genius. Time will tell.
I'm not going to get into a big NAS discussion. Suffice it to say it is more a marketing term.

In the enterprise world it was/is called a SAN!! Storage Area Network
Most specifically a true NAS will be Ethernet connection only and completely Autonomous!
Not some bay of drives connected to and shared by some PC!!!

So be careful when shopping the "Enclousure" sections for internal HDDs!!!
Basically if there is a corresponding blue light, out of four on the bar, the device recognizes the drive.
After I slammed in my mishmash of drives, all the blue lights came on!!!
So you hold the "mode" button, until the RAID setting starts flashing...
Then "mode" through the different RAID settings. Once on your desired setting,
reach around back and hold the protected "Configure RAID" button until the unit shuts down.
Then re-boot and watch the light show. If it chokes on a drive, you will get red lights and the unit shuts down.

The unit will not start unless it has a valid configuration.

I actually went through a couple configs and fell out of my chair when it green lighted my RAID 10 configuration.
It would be neat to see how it uses those drive to come up with that, or its just jerking me around
telling me its RAID 10, with its "Software" doing tricks? Ether way, I could care less actually...
I do care that I get this in Disk Management afterwards:
It initially shows up un-intialized, so you just initialize, then create a new Simple Volume, label and format.

"Do a quick format only!!!!" and if you are going large, > 2TB RAID then you need to consider cluster sizes.
I used the default, 512.
And here is what shows up in Device Manager: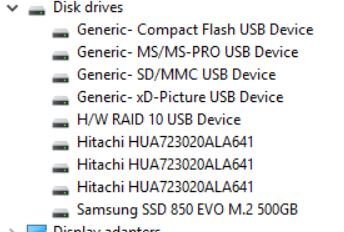 And after I run File History and full Backup, this is what the contents look like.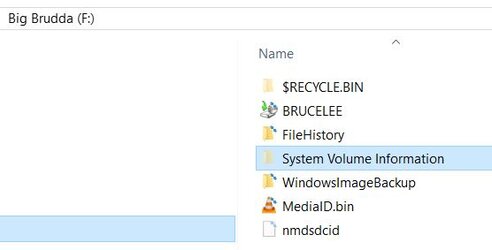 You can use it just like any other drive for other purposes if you want, but I wouldn't.
Leverage all the space you have on your working RAID and let the backup just do its thing.
So there it is! Take what you need, leave the rest.

(comments/questions/disparagement)

TODO - We do need to define a solution to back-up the back-up though, jeez.. were'd I put that tape-drive???
Now let me tell you the story of how I gave Al Gore the idea for the Internet....
...One day Al and I were throwing a few back on the golf course. Al tends to play better the more smashed he gets, and I was down big...​
Cheers!