Joined

Jul 5, 2018
Location
So I have been bouncing around getting advice for my recent build, first I've done in over 10 years. This is also my very first dive into overclocking.
Chassis: Fractal Designs Meshify-C TG
MB: Asus ROG Strix X470-F Gaming
CPU: AMD Ryzen 5 2600X @ 4.2 GHz (All Core) (+800 MHz from stock) 1.45 V
Ram: G.SKILL TridentZ RGB Series 16GB (2 x 8GB) (PC4 25600) F4-3200C16D-16GTZR @ 3600 18-20-20-40 1.35 V (+400 MHz from stock)
GPU: Asus ROG Strix GeForce GTX 1080 Advanced Gaming @ 2050 MHz (GPU) and 1425 MHz (Vram) 1.050V
PSU: EVGA SuperNova G3 650 Watt
Cooling: Master Cooler ML420R (CPU) and 3 Master Cooler MF120R Pro (chassis)(adding a 4th soon)
Currently temps are around 31C Idle and 64C under full load on the CPU and I haven't seen over 45C on the GPU ever.
I chose to OC the CPU against much of what I've read and seen to some extent. Indeed this chip will boost to 4.25, but that is at idle conditions, under load it was hitting 4.1 at best and more often at 4.05. And that was while still showing roughly the same voltage usage.
I have a few more smaller cosmetic items to purchase and then I will begin to mod the case. Haven't fully committed to a theme yet, a few I have considered are Rick and Morty, Resident Evil (Umbrella Corp), Deadpool, ROG and The Joker. In all case the mod ideas are roughly the same. I will be adding an etched design to the tempered glass panel, painting the front mesh panel, making a custom PSU shroud cover using Plexi, paint and led lighting and possibly a custom GPU back plate similar to the plan with the custom psu shroud.
I am getting below average (but close to average) scores on my GPU on Nova Bench and would love to hear some advice on tweaking the GPU to improve its performance. I am considering Liquid Cooling the GPU down the road via EKWB's Modular Custom Loop or creating a custom loop of my own.
I would love to add a photo for viewing, but every attempt in every fashion to upload photos here has failed for me for whatever reason.
Any insight and suggestions are welcome, as are questions.
*EDIT* Here are some pics: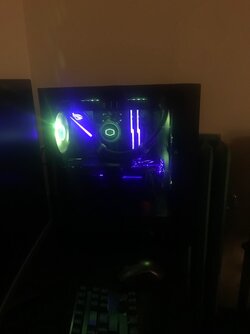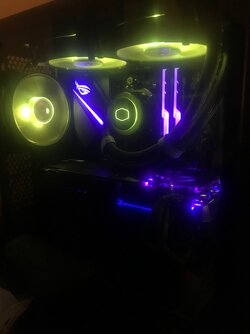 Last edited: