ROG Air 240
By Chas Burkhart
​
Hope you enjoy my build log for the Republic of Gamers Air 240 Gaming Cube! I know it isn't the most powerful BUT it is super stable and very capable little gaming rig! I have enjoyed the ASUS ROG Maximus IV Gene-Z at it's heart since early 2012 and it has been upgraded 3 times. Still very relevant at 1080p.
Currently sporting a Core i5 3570k overclocked at 4.8 GHz and is extremely stable at this speed. Have purchased used Corsair Air 240 case off of EBay so I can extend the width of the ROG Air 240 to accommodate ROG GPUs ... they are monsters and in order for it to be true ROG I have to install a new ROG GPU.
For a total bill of $2,400 over the last 5 years the ROG Air 240 has been one hell of a stable Gaming RIG. 3 CPUs, 2 Ram sets, 6 hard drives and 3 GPUs the Maximus IV Gene-Z is still going strong.
Operating Systems include I have ran on this rig include Windows XP, Windows 7, Windows 10, Linux Mint. SteamOS and Ubuntu . Currently back on Windows 7 running all AAA titles at roughly 80 - 110 fps on my 1080p 144hz ROG monitor at high settings.
This little cube will see one more major mod and redesign with one more hardware refresh. But what a great little motherboard. This is just one of the reasons I will always run ROG boards at the center of my builds. Always dependable and always strong for the Enthusiast in me
The ROG Air 240 was conceived when for Christmas of 2015 I received a Corsair Air 240 from my loving wife. She had heard my many wishes for upgrading my gaming rig for the entire year and settled on the Air 240 and a stack of games. Needless to say not a bad Christmas
I was running 16 GB of GSkill DDR3 1333 MHz memory, i5 2400, WD Velociraptor and ASUS GTX DCII OC GTX 560. Needed a couple of upgrades and with the some very lucky deals on Cyber Monday deals I was able to put this build together.
Specs:
Corsair Air 240 Gaming Cube
ASUS Republic of Gamers Maximus IV Gene-Z motherboard
Intel Core i5 3570k Quad-Core cooled by Corsair Hydro H50 Watercooler with dual Corsair Air SP120 Red LED fans in a push-pull configuration
Corsair Vengeance Pro DDR3 1600 16GB 4 x 4GB
Corsair AX760 760W Modular Power Supply
EVGA GeForce GTX 970 4GB Superclocked (Wish it was ROG )
Intel 730 480GB SSD boot drive SATA III
Western Digital Black 3TB SATA III
Western Digital Black 1TB SATA III
Corsair Air HF120 Red LED fans x 4
Antec 80mm Red LED Fans x 2
Silverstone Sleeved Power Cables

Peripherals
ASUS VG248QE 144Hz 24" LED Gaming Monitor
ASUS Black External DVD writer
ASUS Wireless Gamepad
ASUS Whetstone Gaming Mouse Pad
ASUS Gladius Mechanical Gaming Mouse
Corsair K70 Mechanical Keyboard with Cherry MX Red keys (Wish it was ROG )
Altec Lansing 2.1 Channel Stereo Speakers
Logitech G230 Gaming Headset
Xbox One Wireless Controller
Logitech G27 Racing Wheel
​
Hope you enjoy the ROG Air 240
Air 240 disassembled and wire mesh removed. Prepped, primed and painted a matching ROG red. Wanted the Air 240 to look ROG certified. Also removed the SSD cage and added several more internal channels for cable management. Corsair Air 240 reassembled and prepped for hardware. The new red mesh really makes the Air 240 stand out without being too far over the top or loud. Black, red and clean ROG scheme all the way!
​
Corsair Air 240 reassembled and prepped for hardware. The new red mesh really makes the Air 240 stand out without being too far over the top or loud. Black, red and clean ROG scheme all the way!
Parts upgrades: ASUS Maximus V Gene, Intel Core i5 3570k, EVGA SC GTX 970, Antec 80mm Red LED x 2, Corsair HF120 Red LED x4, Corsair H55 watercooler and Silverstone Braided Extension cables.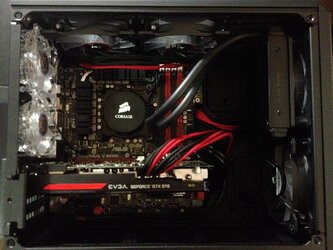 ​
Note the Maximus V had damaged CPU pins to bent for repair. I purchased the ASUS Maximus V Gene off of a EBay store for under $100 used but guarantied to work. Upon arrival I noticed the bent pins and repaired all of them but noticed damage to the socket. Contacted the Seller who insured it worked so using my old CPU I attempted to boot to no avail. Contacted the seller who was kind enough to refund my money and now the Maximus V is a beautiful piece of art work on my wall
I went back to my Maximus IV Gene-z and a BIOS upgrade allowed me to run the Core i5 3570k and PCI E 3.0 GPU in a 2.0 slot.
​
For the second build attempt this time with the Maximus IV Gene-Z back in I added a couple more items. The Corsair SP120 Red LED Fans x2 for a push pull configuration on the radiator and custom ROG decals for case accents. Also Corsair Vengeance DDR3 1600 MHz 4GB x 4, EVGA SC GTX 970 back plate and a Corsair AX760 PS.
I was also able to upgrade from my original WD Velociraptor 300 GB SATA II to the Intel 730 480 GB SATA III SSD on a Newegg Cyber Monday deal for a $100. This build was all about best bang for my buck with what I had. I used the old CPU and memory to upgrade my Daughters ROG Dragon Slayer build.
The stock EVGA SC GTX 970, didn't like the look of the GPU underside and decided to install a back plate to help prevent damage from bumps and drops while working in the system.
​
The visually improved EVGA SC GTX 970. Back plate was a big improvement to aesthetics of the ROG Air 240. Well worth the $12 EBay purchase.
​
All hardware upgrades installed and system booting and stable. Cable management was completed on the first try and the Air 240 has well placed cable management locations through out the case. Great to build in except for a few hang ups on the design.
One the case is only wide enough side to side to equip a reference GPU such as this EVGA. This limitation prevents installation of the card of choice which was a ASUS Strix GTX 970 OC. Very disappointed since this is marketed as a gaming case but will only support reference GPUs. I have purchased a second Air 240 to use as parts and make the current build wider to fix this issue. I will update once that project is under way.
Fans setup is Cooler and front fans are set to intake. Rear and top fans are exhaust. This seemed to be the best cooling not only for the CPU but also the board, GPU and memory. CPU temps idle at 36c.
​
I also converted the blue design on the GTX 970 to red just to make everything match, stiffened the GPU power cables to act as a hidden GPU support. I accomplished this by applying small layers of gloss nail polish to the underside of the cables until they were very stiff and in the perfect position. I angled them to accent the ROG Symbols on the case window and later the CPU water pump.
This method worked better than expected and after a year and half the card is still perfectly supported and cables look like new. Neat trick that seems tow work fairly well.
​
As you can see I chose only LED fans instead of a LED kit which gave it the perfect glow. I didn't want the build to blind me from the side while I was trying to game and still have that gamer glow. No extra coolers or cables which just take away from a clean build and airflow.
​
Another view of the freshly upgraded and stable running system. This pic was taken January of 2015 within the first hour of the system running with the Maximus IV and upgrades. The ROG Air 240 with the decals and assembled! Game on!
​
Another angle of the ROG Air 240. Since the only original item was the ASUS ROG Maximus IV Gene-Z I centered the build around it. .. seemed fitting! Hence the red and black ROG theme.
"Waist not want not!" My wife and Daughter are also both PC Gamers and both have builds so every dollar counts when upgrading. The Maximus IV has been an outstandingly stable and powerful little motherboard and is the exact reason I chose not to upgrade it on the final refresh of the 1150 socket. With a BIOS update I was able to run a PCI e 3.0 card on a 2.0 board with little loss in performance.
​
A week after finishing the ROG Air 240 I ran across this glass Dragon End Table at a flee market and new it was meant to go with the ROG Air 240. Picked it up for $45. This freed up a place for the speaker sub woofer where the PC would be stored normally.
​
Added another set of the ROG custom decals from Custom Decals in black and applied them to the case window for accent. All about that red and black! Final edition was the custom ROG logo to the CPU water pump. The final results I believe have turned out great for the budget I had to work with. Still rocking BF4, Fallout 4, GTA V, Far Cry 4 and many others at high to ultra settings. All for a budget of $800, EBay, Amazon, Newegg and a bunch of Cyber Monday sales
Go ROG ... Game On!!!! Loyal Fan
​