So I have this computer sitting here that isn't doing anything... like... it's pretty much shut down all the time now. It's been mining ETH up until a couple of months ago, now it is essentially turned off.
Thought about migrating this to be my new HTPC, but it would need to be quieted down - significantly. Obviously when mining, it was running loud and blowing hard.
This is it:
Ryzen 9 3950X - using EK AIO 360 cooler for now
EVGA 3090 FTW3 Ultra
EVGA Supernova 1000 G+ 80 Plus Gold PSU
Lian Li O11D-XL case
ASUS Crosshair Hero VIII Wifi MB
2x16GB GSkill Trident Z RGB DDR4 3600CL14 RAM
It's overkill for my HTPC, but I also use it to browse the web a bit, and I might consider doing some gaming on my big TV if I move it in there. It serves a couple of NVidia Shields my movie/TV collection as well.
Bottom line is, it would need to be QUIET to serve duty in the living room, which is why I'd like to consider watercooling it.
I bought this the other day:
LIAN LI EKWB 011D-DPG1 011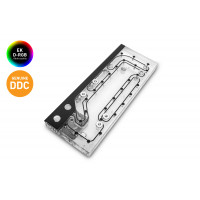 EK-Classic DP Side PC-O11D G1 D-RGB + DDC 4.2 PWM, a custom water cooling reservoir, routing and pump solution. This "distro plate" is specifically designed to provide an advanced water cooling solution with the strongest pump that can be fitted for the incredibly popular O11D chassis by LIAN...

www.ekwb.com
It's not the newest latest greatest top of the line water distro, but it's a start, and I got it for $100 plus shipping, NIB on Ebay. So I thought this would be a good means to get me jumpstarted. Next I'll need a radiator and a GPU block. The CPU block is +/-, I could add that in later once I'm up and running, I think.
So, it is possible to make this behomoth of a thing into a mouse-quiet and cool living room HTPC and part-time gaming PC?